February 17, 2008
Oil Company Bribery of Alaska's Public Officials
Bribery 1981 to 2008 - Chapter One
By Ray Metcalfe
ConocoPhillips President Jim Bowles just can't seem to get Governor Palin's attention. He said she just doesn't understand the economics of it all. Maybe he should just try the same old fashioned economics his predecessors at ARCO used with former Governor Tony Knowles. Just write her a big check. Click here (PDF) to see what I mean.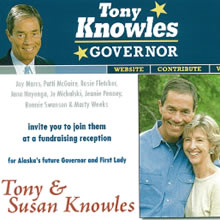 Did you look? If you did, ask yourself three questions. Do you remember any time in state history when it was legal to contribute more than $1000 to an elected official or a committee formed for his election or other benefit? Do you remember a time at all when it was legal to write a check to an elected official even though all of his former campaign debts were paid and he or she wasn't running for office? Better yet, do you remember a time when it was legal for corporations to write $15,000, $20,000 and $30,000 in checks to an elected official for any reason?
On second thought, I suspect that if Jim Bowles tried with Palin what worked so well with Knowles, she would soon take steps to provide him with a matched set of metal bracelets.
Although I believe Veco and the oil companies began bribing Alaska's elected officials in 1981, (I'll shed more light on that part later), with the passage of legislation known as ELF, or the "Economic Limit Factor," it's easy to demonstrate a persuasive case that ARCO, BP, and Veco were paying bribes to Governor Knowles in 1996.
For a brief time, in 1996, it was legal for corporations to make contributions to political parties in unlimited amounts. The oil companies, the Democratic Party and Tony Knowles, decided to use that legal loophole for a purpose that was not legal. While it was legal for the corporations to make large contributions to the Democratic Party at the time, it was not legal to give the money to a political party with the agreement that the money be passed on for a purpose the corporations could not have legally contributed to without the middleman.
Money laundering and bribery; that's what the oil companies did in1996. They used a willing Democratic Party to launder money for the personal use of Tony Knowles. Involving a middleman didn't make it legal. Involving a middleman didn't make it legal. Delivery and acceptance of the money by Tony Knowles for his personal use made it bribery.
In recent statements, all three oil companies denied knowing anything about Veco's bribery. From the evidence presented thus far in the trials of Pete Kott and Vic Kohring, it's conceivable that the North Slope producers could argue their way off the hook claiming they knew nothing of Veco's conduct. They would argue that those fat no bid exclusive contracts they gave Veco for years and years had nothing to do with the fact that Veco spent decades bribing Alaska's legislators to save the Producers from paying a fair price for Alaska's oil.
One need look on further back than 1996, to the Knowles administration, to find a clear demonstration that ARCO and British Petroleum were, at one time willing participants in a money laundering scheme, writing big checks directly to an account they knew to be controlled by and for the personal use of Governor Tony Knowles. If you clicked on the above link, you saw that Alaska's oil producers were much bolder when Knowles was Governor. Back then, they didn't launder all of their checks through Veco. If you clicked the link, you saw that BP, Arco, and Veco wrote a total of $59,000 in checks intended for Tony's personal use to laundered through the "Governor's Fund."
Not to be confused with contributions from employees like the Veco scam of a few years earlier, these checks were in increments of $4,000, $10,000, $15,000 and $20,000, all from the corporations in question and all delivered within the 90 days of BP's acceptance of Tony's gift of the multi-billion dollar North Slope oilfield known as the "Northstar Field." Tony delivered the Northstar field to BP without competitive bid and free of charge. A gift Tony Knowles arranged for BP to receive in March of 1996 by rewriting a lease on a North Slope oilfield.
According to Alaska's own in-house oil and gas experts the rewrite added between one and two hundred million dollars to the value of the lease. Knowles then allowed BP to drill that rewritten lease free of charge with a drastically reduced share of revenue for Alaska, and without any requirement that the new lease be put out for competitive bid.
Continue to Page 2

Related stories:
AUDIO: FBI recording of convicted oil company bagman Bill Allen in a conspiracy with Conoco/Phillips Alaska president Jim Bowles - June 6, 2006
Allen tells Bowles "just between me and you, I've got Pete Kott...and Ben doing it." Bowles tells Allen the best possible outcome will be to "get this thing stopped."
Alaska Suffers From Institutionalized Corruption - Metcalfe
Legislators still stumping for VECO - Metcalfe
Ben Stevens bribed by seafood processors - Metcalfe
A Culture Club of Corrupt Bastards
---