April 28, 2009
Obama's Stimulus Plan Already Impacting Alaskans
The Alaska Democratic Party and Organizing for America (OFA) hosted a press conference in Anchorage today highlighting several of the ways that President Obama's Stimulus Plan (the American Recovery & Reinvestment Act) is already having a positive impact on Alaska families and small businesses, a little more than two months after its passage into law February 17.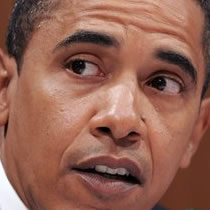 Anchorage small business owner Marvin Kuentzel, founder and owner of Polar Wire and Renewable Energy Systems, said: "Thanks to the increased awareness of renewable energy systems that the Obama administration has brought about, our solar and wind company is not only growing but we're helping to employ others in related trades, as well. President Obama's 30% renewable energy rebate has given my customers the economic incentive to finally look for alternative energy systems.
"I know that this industry is the future of our energy needs. It is reassuring that President Obama's administration recognizes it and supports the renewable energy industry," Kuentzel said.
Organizing for America State Director Jonathan Teeters said: "While there are still some unanswered questions as to how all of the federal stimulus dollars allocated to Alaska will be used, it is undeniable that the American Recovery & Reinvestment Act already is having a positive impact on Alaskans."
A new website launched by President Obama's Organizing for America called "Foundation for Change" (http://my.barackobama.com/page/content/foundationforchange) interactively gives visitors a snapshot of how the President's policies are affecting real people across the nation, including here in Alaska.
Visitors to the new website will come away with a better picture of just how the federal stimulus is working in Alaska. Some of the now numerous stimulus impacts in Alaska include:
. 274,000 Alaskan workers receiving the "Making Work Pay Tax Credit"
. Over $4,000,000 in childcare assistance for working families
. More than 8,400 additional uninsured Alaska children eligible to receive healthcare
. $175 million to help build and repair Alaska's roads & highways
Teeters noted that while the jury is still out on the long-term effects of President Obama's American Recovery & Reinvestment Act, the short-term stimulus to Alaska's economy and the pocket books of working Alaskans is already clear. "I asked my friends on Facebook to tell me how the stimulus is having an effect in their lives, and you wouldn't believe the response I got. One of my friends from college bought her first house this year, and with the President's $8,000 first-time homebuyer tax rebate-she turned around and bought a used Prius! I think that is a great example of the trickle down effects the stimulus is having once we get more money into the hands of working Americans."
For more information on how the American Recovery & Reinvestment Act is making a difference in the lives of working Americans, visit "Foundation for Change." (http://my.barackobama.com/page/content/foundationforchange)
From a Alaska Democratic Party press release:
---