Murkowski's dark cloud over Alaska
January 31, 2008 3:21 AM - Posted by Dennis Zaki
Steve over at the "What Do I Know" blog has a great piece today about Frank Murkowski's motivation for returning to Alaska. Why Did Frank Murkowski Leave the US Senate to Become Governor? Steve hints at what we all assume, Murkowski is getting a payoff somewhere to stick his nose in the gas pipeline debate.
I wonder if the FBI is still taping Murky's calls? They recorded over 8,500 of Bill Allen's cellphone calls. Frank must have been on a few of those. Allen and Frank were drinking buddies. And with rampant rumors that Murkowski's right-hand man, Jim Clark, is singing to the feds to save his skin, maybe we will find out.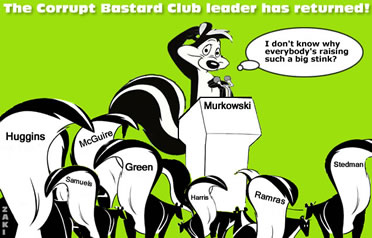 ---