KUDO's Aaron Selbig breaks the Anchorage Assembly scandal
February 27, 2008 5:48 AM - Posted by Dennis Zaki
KUDO-1080 Radio's Aaron Selbig broke a huge story Tuesday on the air with a phone message left on an answering machine between Anchorage Assemblymen Dan Coffey and Bill Starr that details illegally collected money for Assembly candidates Sherri Jackson and Dick Traini.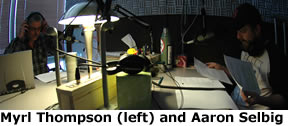 Aaron told me last night that in his 2 1/2 years on air with KUDO, this is the biggest story he has broken.
The Alaska Public Offices Commission said Tuesday evening that it is launching an investigation of both Assembly members. APOC director Brooke Miles says she heard enough evidence on the tape to begin an investigation into possible illegal campaign contributions and accepting contributions on behalf of other candidates.
KUDO's transcript of the call.
AUDIO:
Recording of a phone conversation between Assemblymen Dan Coffey and Bill Starr in which they talk about raising money for other Assembly candidates. - February 14, 2008
Coffey to Starr "I'm doling it out $250 a crack... That's good. It gives the message that we care."
KTUU spoke to Coffey and Starr: "It was a joke in poor taste, but none the less a joke"





---