Immigration raids Ohio chicken plant
August 31, 2007
Cincinnati, Ohio - The Koch Foods chicken plant in Fairfield, Ohio, was raided by about 300 U.S. immigration agents where they arrested more than 160 employees that were working there illegally.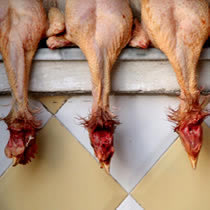 Immigration and Customs Enforcement (ICE) said on Tuesday they arrested the employees as part of a criminal operation against illegal immigrants.
"As of 2:45 p.m. more than 180 Koch employees have been identified for further questioning and more than 160 have been administratively arrested for immigration violations," ICE special agent in charge Brian Moskowitz said at a news conference.
Moskowitz said employees faced a range of charges including illegal reentry to the United States, identity theft, document fraud, social security fraud and forgery. Koch Foods was being investigated for federal crimes including encouraging, inducing or harboring illegal aliens.
According to a statement released by ICE, in addition to the 20 illegal aliens charged criminally being held in the Butler County jail, all 161 were served with notices to appear before an immigration judge for removal proceedings. Eighty others remain in ICE custody at a facility located in the Cincinnati area and 61 were released on alternatives to detention for humanitarian purposes such as medical issues and sole care-giver situations.
Aliens arrested came from the Dominican Republic, Ghana, Guatemala, Honduras, Lithuania, Mexico, Peru, and Senegal.
© AR News
---