December 02, 2009
Iditarod's 2010 field now at 75
Iditarod Trail Committee press release:
The Iditarod Trail Committee announced today that 75 mushers have officially entered to run the 2010 Iditarod Trail Sled Dog Race. There is the possibility that the number of entrants may grow. Applications that are postmarked before midnight November 30th will be accepted.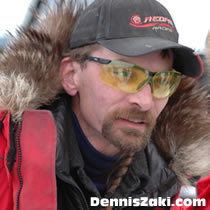 This year's field of entrants includes 5 time Iditarod Champion Rick Swenson, 4 time Iditarod Champions Jeff King and Martin Buser, 2004 Iditarod Champion Mitch Seavey, and 3 time (and reigning) Iditarod Champion Lance Mackey. The 2010 field is represented by 19 of last year's top 20 finishers. At this time 23 rookies are entered in IDITAROD XXXVIII.
Rookies that enter the "Last Great Race" are required to attend a two day conference dedicated to indoctrinating them on the importance of understanding and implementing the skill sets required to safely start and finish the Iditarod Trail Sled Dog Race. This year's Rookie Meeting begins Saturday December 5th, at the Official Iditarod Trail Race Headquarters in Anchorage Alaska, the Millennium Alaska Hotel.
For more information about the 2010 field of Iditarod mushers click on www.Iditarod.com, and take a look at Musher Profiles under the tab heading "2010 Iditarod".
Lance Mackey at the Iditarod Ceremonial start from Dennis Zaki on Vimeo.
© AlaskaReport.com All Rights Reserved.
---