Aleutian Islands, Alaska earthquake pegged at 7.2
December 19, 2007
A magnitude 7.2 earthquake rattled Alaska's Aleutian Islands in the northern Pacific on Wednesday, according to a preliminary report by the U.S. Geological Survey.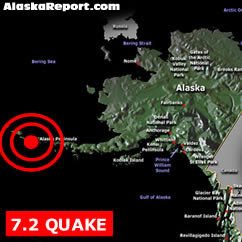 The quake was was detected at 12:30 a.m. Alaska time (4:30 a.m. ET) Wednesday and centered about 125 miles west of Adak.
A tsunami warning was immediately issued but soon cancelled for the Alaska coast by the West Coast and Alaska Tsunami Warning Center.
The earthquake was centered 35 miles under the sea near the Andreanof Islands of the Aleutian Island chain and 1,304 miles west-southwest of Anchorage, Alaska, the USGS reported.
"No destructive widespread tsunami threat exists based on historical earthquake and tsunami data," the Geological Survey said in a statement on its Web site. "However, earthquakes of this size sometimes generate local tsunamis that can be destructive along coasts located within 100 kilometers of the earthquake epicenter."
Earthquake Details
Magnitude 7.2
Date-Time Wednesday, December 19, 2007 at 09:30:30 UTC
Tuesday, December 18, 2007 at 11:30:30 PM at epicenter
Time of Earthquake in other Time Zones
Location 51.495°N, 179.473°W
Depth 56.3 km (35.0 miles)
Region ANDREANOF ISLANDS, ALEUTIAN IS., ALASKA
Distances 200 km (124 miles) W (259°) from Adak, AK
370 km (230 miles) W (260°) from Atka, AK
2098 km (1304 miles) WSW (253°) from Anchorage, AK
Location Uncertainty horizontal +/- 8.8 km (5.5 miles); depth +/- 10.9 km (6.8 miles)
Parameters Nst=130, Nph=130, Dmin=197.9 km, Rmss=0.62 sec, Gp= 54°,
M-type=moment magnitude (Mw), Version=6
© AlaskaReport. All Rights Reserved.
---