February 23, 2008
Stevens files for re-election despite looming indictments
Republican senator Ted Stevens filed for re-election Thursday, despite multiple criminal indictments hanging over his head.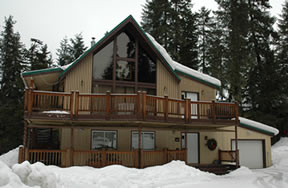 Stevens is under multiple criminal investigations for bribery, extortion, and corruption charges relating to Alaska's legislature, kickbacks to his son Ben, a suspicious remodelling of his home (pictured), and various fisheries issues including a scam involving the SeaLife Center in Seward.
ANCHORAGE, Alaska -- U.S. Sen. Ted Stevens, R-Alaska, reportedly filed for re-election Thursday, despite a federal corruption probe hanging over his political future.
Stevens, 84, who is the longest serving Republican senator in U.S history, filed his re-election paperwork in Anchorage, The Hill Reported.
Stevens was appointed to the Senate in 1968, won a special election to the seat two years later, and has been re-elected ever since.
He could be in for a tough campaign, given that he is under investigation in connection with his dealings with a convicted oil services contractor, VECO Corp. executive Bill Allen, who allegedly had parts of the senator's home remodeled.
The Hill reported that Democratic leaders in Alaska are trying to get Anchorage Mayor Mark Begich to run against Stevens.
© UPI and AlaskaReport.com All Rights Reserved.
AlaskaReport's ongoing corruption coverage:
Corrupt Bastard Club coverage and links
Jim Hayes convicted on 16 counts including theft
Ted Stevens' earmark buddy Jim Hayes on trial
A Culture Club of Corrupt Bastards
Ted Stevens under criminal investigation for corruption
Don Young under criminal investigation - again
Lisa Murkowski Exposed In Kenai River Land Scam
VECO head pleads to bribes to Ben Stevens and cohorts
Ben Stevens has accepted bribes by Ray Metcalfe
Ted Stevens & Corruption: Move Over Duke Cunningham
Legislators still stumping for VECO - By Ray Metcalfe
---