October 11, 2008
Branchflower report finds Palin guilty
Sarah Palin abused power in office
In a blow to her aspirations to be the next vice-president, Alaska governor Sarah Palin, the running mate of Republican presidential candidate John McCain, has been found guilty of an abuse of power.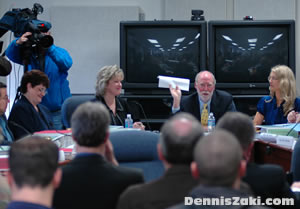 The Branchflower report was released Friday by a 12-0 vote of the Legislative Council, with eight Republicans and four Democrats voting.
"I find that Governor Sarah Palin abused her power by violating Alaska Statute 39.52.110 (a) of the Alaska Executive Branch Ethics Act," investigator Steve Branchflower concluded in the panel's 263-page report.
"Gov. Palin knowingly permitted a situation to continue where impermissible pressure was placed on several subordinates in order to advance a personal agenda," the report states.
A state investigator's report concluded Friday that Palin's efforts to get State Trooper Mike Wooten fired broke a state ethics law that bars public officials from pursuing personal interest through official action.
Public Safety Commissioner Walt Monegan's refusal to fire State Trooper Mike Wooten from the state police force was "likely a contributing factor" to Monegan's July dismissal, but Palin had the authority as governor to fire him, the report by former Anchorage prosecutor Branchflower states.
Monegan has said he was fired in July after refusing pressure to sack Wooten, who had gone through an acrimonious divorce and custody battle with Palin's sister.
The Branchflower report states Todd Palin used his wife's office and its resources to press for Wooten's removal, and the governor "failed to act" to stop it. But because Todd Palin is not a state employee, the report makes no finding regarding his conduct.
The bipartisan Legislative Council, which commissioned the investigation after Monegan was fired, unanimously adopted the 263-page public report after a 7-hour executive session Friday.
Legislators do not have the power to take formal legal action against the governor; that would be up to Alaska's Personnel Board.
If the Board decides Palin violated state law, the case will be referred to the president of the state Senate.
When asked by AlaskaReport if impeachment is on the table, Alaska Senate president Lyda Green said "No, it's not that serious of an issue."
© AlaskaReport.com All Rights Reserved.
---