Alaska Governor Murkowski: Vacant Eyes, Vacant Policy
8/07/06
Kodiak, Alaska
By Stephen Taufen - Sometimes a sign can say it all, "Only a Bum Would Let Crab Ratz Live." At other times, one long look in a man's eyes will do. In Kodiak today, both applied. Governor Frank Murkowski, an incumbent who is desperately struggling to regain a foothold in the upcoming primary race, again stepped on a public mat so worn by his own resource policy failures that the word "Welcome" is no longer readable.
A group of local small business owners and fishermen had a bucket of tar and a bag of feathers standing by as Frank arrived on Kodiak's waterfront. Sporting t–shirts and hats with the slogan, "NO RATZ" (thanks, Ludger), shouts from the crowd stated themes reflecting the job losses and gloomy unemployment future like, "We want don't want no Crack! We want our fish back!"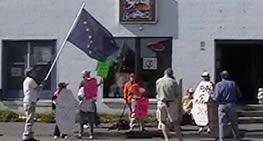 Fish Patriots Await the Governor's Arrival
One sign asked, "Frank the Bank. Secrecy. Cronyism. Nepotism. Alaska's Future?" Another read, "Special Interests: We are Not Interested," which pretty well sums up what is really happening.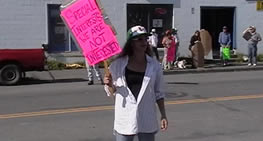 Fleet Faces Overshadowed when Special Interests take the Political Light
You'll read a fuller transcript from news services that had the better cameras and mikes up front, but I did catch this one exchange as Frank got emphatic as he mixed it up, shaking hands and showing everyone he can come across as 'no pushover.' Not a very cozy way to win over folks. But he already knew this disenfranchised group wasn't going to vote for him come the primary – just weeks away. So, how did the governor do in fielding a few questions?
When pressed about the giveaway of Alaska's resources to special interests, Frank crawled back inside a three-mile mentality. "I want to make sure all Alaskans have an opportunity to harvest our fish. That means all Alaskans. Do you know what that means?! Harvest. Harvest our fish." One fisherman replied, "Then why did you give it all away to the rich?" Murkowski replied, "No. I don't believe we ought to give our fish to anybody. We shouldn't sell it to anybody. We ought to give it to Alaskans. That's what I'm talking about." Later, he clarified, "We're dealing within the three mile limit."
He did reiterate, "You asked what I believe in. Well, I believe that anybody in the public who wants to go fish should go fish. That's what I believe in." O.K. Frank, should we just tell the fish cops you told us to go out and do it? Not hardly. A belief still lies well below a conviction on the conceptual scale. And actions still speak louder than words.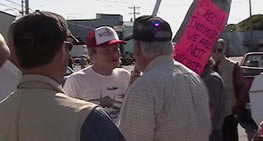 Governor Avows No Responsibility, when confronting Lynn Steinmetz
But Lynn Steinmetz was not letting the governor off the hook, and reminded Frank about how he was up on the Hill for a few decades, and was certainly there when the special interests started their species by species walk, to take away Alaska's fish from the People. Frank countered that he left DC in 2002. One can only conclude that's his way of skating out of taking any responsibility for Crab Ratz and all the job losses Kodiak's fleet (and others) suffered. But convenient hand washing wouldn't cut it, as everyone knew that the Governor was clearly in a position to have personally challenged U.S. Senator Ted Stevens' crab rider on behalf of the State and its communities.
That 2003 Omnibus rider also contained two other allocations of Alaska's fish. One was the giveaway to the Aleut Corporation, while Adak was still federally-owned and the Aleuts held no property there, of the pollock designed to enrich Ben Stevens. And Frank was the go-to-guy pushing the land transfer, and making sure Aleut lobbyists got their hands on documents that the public could not, and doing other culpable acts. The third allocation was the Rockfish Pilot Program, which is another means to harm competitive markets to serve special interests. Frank was fully on board.
Think carefully about that. If Ted Stevens also really stood foremost for opposing overfishing and other alleged environmental soft spots, he could have written those rules into his infamous Rider. But no, instead that 2003 rider ONLY contained highly specified allocations of national resources to the special interests whose lobbyists clearly had greased the political skids and written the language themselves. Again, NO!, Congress did not order this. One powerful, corrupt senator, who the other 99 in the Senate dared not challenge, did it through the fourth branch of Appropriation powers.
You'd think that other Senators would read the handwriting on the wall, after Ben Stevens withdrew from his own race immediately after Ray Metcalfe revealed that in Ben's contracted 'consulting' obligations, his job at Adak was to get daddy to allocate the pollock into a planned set of contract protected assurances, down a set of steps that would eventually enrich Ben himself. It is only a matter of time before Washington DC finds itself confronting the biggest of all congressional scandals – but until it happens, Alaska's special interest team is hell-bent on hoping to squeak by this election, and slam MSA Reauthorization into place first.
It's only getting worse. The word around town today is that the Alaska Groundfish Data Bank, Inc. – lobbyists for the large shoreside processors (especially foreign-owned ones dominating the Pacific Seafoods Processors Association) and their bottom trawlers – have Congressman Don Young in their pocket once again. This round of hat passing must have cost some trawlers and processor giants some real campaign wampum!
This time, dock talk says that AGDB has illogically argued that since the Governor's office has held up the Gulf of Alaska Rationalization scheme (after fishery-dependent community level activism forced it!), that the two year trial period for the rockfish scheme should be extended to five years. That is, an exclusive giveaway to these special interests should guarantee they are the winners no matter what. That hardly makes it a "pilot program" at all (but you knew that already).
No, governor, you sit clearly in the one spot that can turn the minds of other United States Senators – your former colleagues – but you refuse to do it. You refuse to help Alaska first by asking the Senate to pull the entire LAP dance section (directed access privileges able to be pushed by a council's own volition) out of the MSA. And predictably, you will refuse to tell Congress that since the State has found good reason to question any further rationalization that Congress should pull the "pilot program" altogether.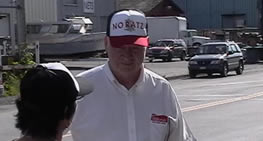 Alaska Fish Czar Alan Austermann Sporting a NO RATZ Hat While Home at Kodiak; chatting with Rhonda Maker, a former fisher and current business owner
All of today's cute replies alone to local businesses who are harmed by these allocation schemes won't cut it. Frank's hiding inside three miles only means he's here inside the gates with us to help the foreign-owned Trojan Horse unload its destructive cadre. He's their inside man, signaling them as to when the coast is clear, putting out the fires that would illuminate the coming doom as his friends crawl from the belly of the wooden policy gift. He knows the passwords. "Campaign contributions earns earmarks." But again, you already knew that.
So, after standing behind technicalities of state law and ignoring the real problems, how did the governor do when Groundswell got in a question on Transfer Pricing?
"Hello governor (firm handshake), my name is Steve Taufen. Can we get you to do something about Transfer Pricing some day? That's the law too. The tax law that says corporations shouldn't take our product out of here so cheap." After stuttering, "Transfer pricing" (like it's something he had to think about), I reminding him, "You know, you dealt with it in hearings up in Congress." Frank's useless reply was, "Well, look, they take your product to market." And as he cut and run, "I'm going inside to do what I came here to do." We trust he enjoyed the local brew, too.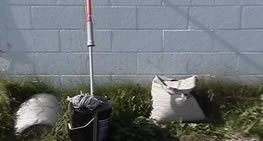 Tar and Feathers at the Ready, for Governor
O.K., Frank. Run. But you can't hide. There's a primary right around the corner. Go ahead and ignore that fishery issues are being echoed in the oil and gas situation right now, too. Transfer pricing is what it is all about for all Alaskan resources. Whether or not outside corporations are going to be allowed to rig their accounting books, lie about profits, bleed off revenues and load in costs, and avoid paying Alaska a fair share for its resources. And it's about whether or not states are going to start reining in Certified Public Accomplices who assist them. Sorry we couldn't have sat down for a real chat Frank, but you had a good brew waiting. Don't forget to come back for a new suit of tar and feathers on your way out of town.
Now, all the ramble of a protest aside; and giving all grace to how tough it is for any politician to face open questions. Letting all that go–and the punditry too–standing toe to toe with Frank, long enough to take off my sunglasses and ensure that two men could fairly look deeply into each other's eyes, that's when the genuine truth arrived. Frank's odd eyes seemed to focus as if on a distant star, spotting its final light – one cosmic dying star he knew had burst eons before, whose light had only recently reached him.
They showed something different than a mind merely scrambling to stay up with the pressures of the moment. Nor were they the eyes of a man simply unable to look at a formidable questioner. No, these eyes did not, could not track, because they were fixed on some unknown place. They made no connection, as if there was nobody home behind them – save a mechanized partial cortex still repeating its limited programming. They are eyes one rarely encounters. They were "I, Robot" eyes. But he's right in front of me, breathing; he's flesh. I thought back to my childhood, growing up across the street from a rest home, and I knew again just how rare are such eyes. Even if Frank had gotten every question right, said he would correct things, and even if he wanted to do so, those disconnected eyes said it can never happen.
Those were the eyes of our ex-governor. One who truly needs to go home–with our wishing him the best of long overdue care. Meanwhile, we have to start taking care of Alaska's fish bounty, and get control over our state and federal resources once again. As Terry Haines said, we have to simply start by throwing the bums out.
Kodiak, Alaska
Sunday August 6, 2006
Stephen Taufen - Groundswell Fisheries Movement
A public watchdog and advocate for fishermen and their coastal communities. Taufen is an "insider" who blew the whistle on the international profit laundering between global affiliates of North Pacific seafood companies, who use illicit accounting to deny the USA the proper taxes on seafood trade. The same practices are used to lower ex-vessel prices to the fleets, and to bleed monies from our regional economy.
Contact Stephen Taufen
---