APOC orders investigation of Lesil McGuire for ethics violations
February 7, 2008 10:42 PM - Posted by Dennis Zaki
The Alaska Public Offices Commission (APOC) has ordered the Select Committee on Legislative Ethics to look into Senator Lesil McGuire's contract with Providence Hospital in Anchorage in 2003.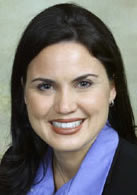 McGuire is to be investigated for violations of lobbying laws and legislative standards of conduct.
The investigation stems from a complaint by Ray Metcalfe that McGuire's consultant work amounted to "lobbying and bribery."
APOC complaint concerning the activities of Lesil McGuire (PDF)
APOC staff response to the first complaint (PDF)
Public Offices Commissioner Elizabeth Hickerson says McGuire may have violated state laws - From APRN "I think we have evidence that there may be a potential violation of the legislative ethics act because an elected official has received compensation to put together a lobbying strategy that calls upon administrative and legislative action."
Lisa McGuire is the wife of convicted lawmaker Tom Anderson. He was convicted of bribery.
Related stories:
Ray Metcalfe says Lesil McGuire lobbied and bribed
Lesil McGuire made "veiled threats" against witness: FBI
McGuire denies threats, denies tape exists (it does), disputes prosecutors
---