Car carrier vessel taking on water over 200 miles south of the Aleutian Islands, Alaska
7/24/06
Kodiak, Alaska
See Coast Guard Video (1MB)
The Cougar Ace, a 654 foot car carrier owned by Mitsui O.S.K. Lines, reported that they were taking on water and listing 80 degrees at 11:09 p.m. yesterday.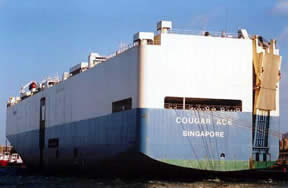 The Cougar Ace left Japan on July 22, with 22 people on board. One crewmember has a broken leg, but there are no other reported injuries at this time. All crewmembers are wearing survival suits at this time.
A Coast Guard C-130 aircraft out of Kodiak is on scene and has radio contact with the Cougar Ace. The C-130 has dropped a liferaft as a safety measure for the possability of the vessel capsizing.
The cause of the damage and the source of incoming water are unknown at this time.
There are two merchant vessels standing by to assist on scene.
The Cougar Ace is carrying 430 metric tons of fuel oil and 112 metric tons of diesel. There is a sheen extending 2 miles from the vessel.
The Cougar Ace is a Singapore homeported vessel, carrying 4,813 vehicles, en-route to Vancouver B.C.
The Coast Guard cutter Rush, a 378-foot cutter based out of Hawaii, is en route to assist and is expected to arrive on scene in approximately 20 hours.