Coast Guard rescues crewmembers from sinking ship, Cougar Ace, near Aleutian Islands, Alaska
7/25/06
Juneau, Alaska
Twenty-three crew members rescued from an Asian cargo ship taking on water south of Aleutian Islands were delivered safely to land after a daring and difficult rescue by the Coast Guard.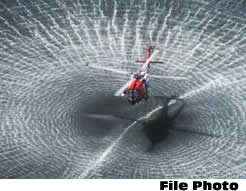 The operation began at 9:05 p.m, Monday. By 9:30 p.m., the first seven crewmembers had been hoisted from the vessel by a Pavehawk helicopter.
At 9:43 p.m., the Coast Guard helicopter and crew had hoisted the next eight, departing for Adak at 9:51 p.m.
After completing a mid-air refuelling from a nearby Air National Guard C-130 tanker, the second Pavehawk helicopter hoisted the remaining crewmembers at 10:09 p.m.
Weather conditions during the operation were overcast skies with eight knot winds.
Aside from one crewmember with a broken leg who will be taken to Anchorage for medical attention, there were no reported injuries.
The remaining crewmembers will be taken to Adak and then transported to Kodiak, where they will spend the night.