Alaska volcano keeps erupting
August 20, 2007
Courtesy of Far North Science
By Doug O'Harra

The eruption of a 8,261-foot volcano along the Alaska Peninsula southwest of Anchorage continues to dribble molten rock down its slopes, trigger steaming lahars and spit small ash clouds into the air.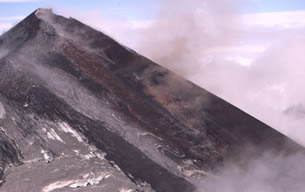 Credit: NSIDC
Pavlof Volcano - one of the most active cones in the world - awoke last week with a dramatic explosion that appears to have legs.
The Alaska Volcano Observatory continues to rate the volcano's aviation hazard at the Orange level, meaning that the eruption isn't currently sending ash into flight zones but could at any time. Volcanic ash can damage or shutdown jet aircraft.
On Aug. 18, scientists from the observatory visited Pavlof and brought home this report:
An AVO field party yesterday reported seeing a vigorous eruption of lava at Pavlof Volcano before clouds moved in," the observatory reported in its Aug. 19 update. "Activity did not exceed 10,000 ft. above sea level. Steady earthquake activity and flow events continue to be recorded. A thermal anomaly was seen in satellite data.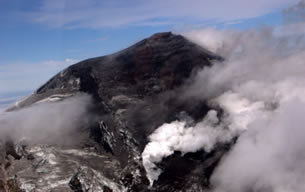 Pavlof summit viewed from the south on Aug. 18
Credit: Cyrys Read, AVO/USGS

Pavlof - the most historically active volcano in Alaska - has exploded at least 42 times since 1762 (and possibly 45 times), according to a Pavlof event timeline compiled by AVO scientists. Its dramatic snow-covered cone rises amid a cluster of other sister volcanos lurking around the Emmons Lake Volcanic Center near the tip of the Alaska Peninsula. Check out this large PDF file showing the complex and hazards.

Alaska perches along the edge of the colossal collision between immense tectonic plates, the geologic process that creates the Pacific Ring of Fire. As the Pacific plate grinds beneath the North American plate - getting squished deeper into the Earth's mantle at about the same speed as fingernails grow - the forces and pressures generate the magma that vent to the surface in one of the world's great chain of volcanoes.

More than 100 volcanoes in Alaska have erupted sometime within the past 100 years, with 40 cones logging in blasts, spurts and explosions in historic times. Almost all of the U.S. volcanoes loom over Alaska horizons, including about 8 percent of the active volcanoes on the planet.
Not just a chain of pretty mountains
These volcanoes pose an ongoing hazard to aviation. Hundreds of jet flights cross the North Pacific between North America and Asia each week, carrying up to 20,000 passengers and millions of dollars in cargo every day. Along the way, they run this gauntlet of active Alaskan and Russian volcanoes. Imagine trotting past a line of marksmen holding loaded shotguns. How many have flipped off the safety and taken aim? It gives a whole new meaning to Aleutian scenery.
When sucked up by air intakes, the tiny abrasive ash particles of rock and glass produced by an eruption can destroy or damage jet engines and turbines, causing aircraft to plummet from the sky.
In December, 1989, a KLM Boeing 747 with 231 passengers and 13 crew flew into a Redoubt Volcano ash cloud about 25,000 feet above Talkeetna, about 100 miles north of Anchorage. All four engines quit. The jumbo jet plunged for the next 12 minutes, dropping more than two miles, before the pilot managed to restart the engines. Minutes later it landed in Anchorage with no serious injuries among its terrified and shaken passengers, and $50 million in damage to its engines.
At least 100 other aircraft have flown into ash clouds during the past 20 years across the world. No one has died, but equipment has sustained hundreds of millions of dollars in damage.
To avoid such a catastrophe, the North Pacific volcanic chains have been monitored around the clock by American and Russian scientists since the early 1990s.
Founded in 1988, AVO began watching the four active volcanoes in Cook Inlet and quickly expanded coverage down the Alaska Peninsula and Aleutian Chain. Now more than 20 volcanoes have been wired with seismic sensors and webcams, while the observatory's 22 full-time staffers conduct research and issue daily reports about volcanic action.
Little cone that could
And Pavlof, the little cone that could, strives to be the champ, erupting 10 (and possibly 13 times) in the past three decades, most recently in 1996.
A surge in earthquakes beneath Pavlof on Aug 14 alerted AVO scientists that the storybook cone had awoken again. By Aug. 15, the volcano had begun erupting with lava, ash and steam.
Here's a report filed that day:
Mariners offshore to the east and south observed incandescent blocks of lava tumbling down the east-southeast slopes and fire fountaining on the southeast side of the summit during the predawn hours Wednesday morning. Pilots reported that Pavlof was emitting ash with a plume extending as far as 8 km (5 mi) south-southeast of the summit at an altitude of about 2.6 km (8400 ft) later on Wednesday morning. They also reported that the normally snow-covered volcano was now covered with ash.
Pavlov isn't the only Alaska cone blasting its top or muttering in its sleep. Cleveland Volcano - an Aleutian cone without its own seismic network - has also been sending ash into the sky. Korovin is stirring too.
The AVO website may be one of the most interesting science websites available, a must-stop for anyone who just can't get enough of colossal, sky-blocking explosions. AVO posts eruption details almost in real time, along with a volcano atlas, gobs of volcano photos and 12 volcano cams.
---

Most of Far North Science is written and edited by Doug O'Harra, a writer and journalist based in Anchorage, Alaska.