Harriet Miers ignores subpoena, contempt charges coming
July 12, 2007
Washington, DC - Former White House counsel Harriet Miers ignored a subpoena on Thursday to appear at a hearing on the illegal firing of federal prosecutors and is now facing contempt of Congress charges.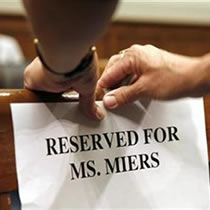 On a party-line vote of 7-5, a Democratic-led House of Representatives Judiciary subcommittee rejected Miers' contention that President Bush's claim of executive privilege allowed her not to attend its hearing or testify on what she knows about the dismissals.
"We have given all these claims careful consideration, and I hereby rule that those claims are not legally valid, and that Ms. Miers is required pursuant to the subpoena to be here now and to produce documents and answer questions," said subcommittee Chairwoman Linda Sanchez, a California Democrat.
After her panel approved the ruling, Sanchez said, "This subcommittee and the full committee will take under advisement what next steps are warranted."
Unless the White House reaches a compromise with lawmakers about testimony and documents, the Judiciary Committee could vote to hold Miers in contempt of Congress.
If the full House of Representatives concurs, the case would be referred to a U.S. attorney to seek a grand jury indictment.
Miers refused to attend the hearing under orders from Bush a day after another former White House aide, Sara Taylor, testified before the Senate Judiciary Committee in its investigation of the fired prosecutors.
But at Bush's direction, Taylor, who had been White House political director, refused to answer a number of questions about the firings, which critics say appear to have been politically motivated -- perhaps even to influence investigations of Democratic or Republican lawmakers.
Bush and Attorney General Alberto Gonzales have claimed the firings were justified, but mishandled, sparking a political firestorm. With the support of Bush, Gonzales has rejected bipartisan calls to resign.
© AlaskaReport News
---