Dutch Harbor, Alaska remains top U.S. fishing port for 2006
July 13, 2007
Anchorage, Alaska - Dutch Harbor, Alaska remains the top U.S. fishing port in the United States with 911.3 million pounds of fish and shellfish in 2006.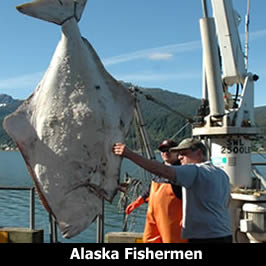 From a NOAA press release: NOAA's annual report on Fisheries of the U.S. shows an increase in seafood consumption during 2006. Dutch Harbor-Unalaska and New Bedford, MA, retained their ranking as top fishing ports during 2006. Landings data showed that spotted sea trout remained the top catch for U.S. anglers.
Americans ate 16.5 pounds of fish and shellfish per person in 2006, a two percent increase over the 2005 consumption figure of 16.2 pounds. Americans consumed a total of 4.9 billion pounds of seafood in 2006. The nation imports roughly 83 percent of its seafood and remains the third largest global consumer of fish and shellfish, behind Japan and China.
Commercial fishermen unloaded 911.3 million pounds of fish and shellfish at the port of Dutch Harbor-Unalaska, AK, in 2006, making it the country's top port in terms of landings. Intracoastal City, LA, ranked as the number two port for quantity of landings with 400.7 million pounds. Reedville, VA, was third at 372.5 million. The port of New Bedford, MA, claimed the top spot for value of landings, bringing in $281.2 million in 2006. Landings in New Bedford include sea scallops, ocean quahogs, lobster, mackerel, flatfish and herring. Dutch Harbor-Unalaska was ranked second in value of landings at $165.2 million, followed by Kodiak, with $101.4 million, both as a result of increased groundfish catch from the Bering Sea, Aleutian Islands, and Gulf of Alaska. Total domestic commercial landings for 2006 were 9.5 billion pounds, valued at $4 billion.
Marine recreational anglers caught more than 37 million spotted seatrout in 2006. Spotted seatrout was the most popular catch among marine recreational anglers in the Gulf of Mexico. The top catches in other regions were striped bass (North Atlantic), summer flounder (Mid-Atlantic), spot (South Atlantic), chub mackerel (Pacific), black rockfish ( Pacific Northwest ), and yellowstripe goatfish (Western Pacific). Anglers took 89 million saltwater trips in 2006, a 5 percent increase from 2005. While anglers are keeping about 20 percent more fish than a decade ago, they are also releasing their catch more often. Of the 475 million fish caught by anglers in 2006, 262 million (55 percent) were released alive.
© AlaskaReport News
---