Republican David Vitter claims he only visited one prostitute
July 16, 2007
Washington, DC - Senator David Vitter, the Louisiana Republican who admitted last week to employing a D.C. escort service, said Monday he will not resign his Senate post and said he "only" visited one prostitute service and not others as some have claimed.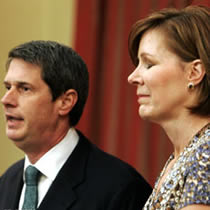 The "family-values" conservative Republican also addressed what some critics see as his hypocrisy, saying he's been "trying to live up to the important values we believe" since admitting to his mistakes.
Unfortunately, my admission has encouraged some long-time political enemies and those hoping to profit from the situation to spread falsehoods too, like those New Orleans stories in recent reporting," Vitter said at a press conference with his wife, Wendy, at his side. "Those stories are not true."
"For my part, I'll be helping finalize a crucial water resources bill to provide much better hurricane and flood protection," Vitter added. "I'll be following up on our important defeat of a bad immigration bill by working for good border and workplace security."
Vitter apologized to constituents last week for "a very serious sin in my past" after his number turned up in telephone records of the service run by Deborah Jeane Palfrey, the "D.C. Madam" now facing money laundering and racketeering charges.
© AlaskaReport News
---