Alaska Republican Lisa Murkowski Caught In Kenai River Land Scam
July 20, 2007
Anchorage, Alaska - Alaska Republican senator Lisa Murkowski received an incredible deal on prime property on the banks of the Alaska's Kenai River, a purchase she illegally failed to report on her annual financial disclosures filed in May.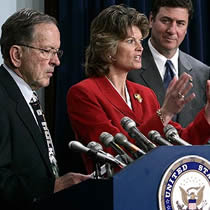 Murkowski refused to disclose the purchase price of the 1.27-acre vacant tract all week but finally relented yesterday after pressure from media organizations.
Real estate developers say the land could sell today for nearly $120,000 more than the $179,400 she paid for it. Senate ethics rules prohibit senators from receiving gifts from personal friends if the value is over $250.
Murkowski bought the riverfront property from Bob Penney, a real estate developer, who has claimed ignorance to the value of the land he sold to Murkowski last year.
"Word of honor, I did not know what the assessed value was," Penney is quoted by the Anchorage Daily News. "I thought it was still $120,000."
Yet Penney testified at a state hearing - just before the land sale - on exploding Kenai River land prices and the economic impact of sports fishing where he seemed much more familiar with land value in the area. (See video below)
"The economic value of the land along the Kenai River privately held from Skilak to Ames bridge; three years ago the assessed value to the borough of only the privately owned land was three hundred and thirty-five million dollars. As Mr. Busey just said to you, it's increased since then. Now, I know it's well over five-hundred, but we haven't seen what the borough's assessed it. But gentlemen and ma'm, all that assessment in value came from one reason; cause there's fish in the river. And you put the fish in the river, and you put the fish in the inlet, and you give the opportunity for the public you'll see the economic engine run hard." (See video below)
Ken Boehm with the National Legal and Policy Center, a government watchdog group, told KTUU.com that the deal stinks of corruption. Regardless of a willing buyer and seller, he said if a public official pays less than market value, there are legal and ethical red flags.
"If you say as long as you buy it at the assessed value and in a given area properties are running 10, 20, 30, 40 percent in terms of the market value over the assessed value. Then anybody who wants to corruptly influence a public official says, "Hey why don't you buy some land at the assessed value?' And if public officials can do that and that becomes a wink and a nod, then you have a loophole you can drive trucks through," Boehm said to KTUU.com.
---
Bob Penney is well known for his land deals in Alaska, he is also caught up in the Ted Stevens criminal investigation.
Lisa Murkowski was appointed senator in a well known nepotism case when Alaska's former senator, her father, Frank Murkowski, was elected Governor of Alaska. He appointed her to fill the remaining two years of his seat.
Related Stories:
Alaska governor Frank Murkowski now rated the most unpopular governor in entire country

FBI hovering over Alaska Senator Ted Stevens

VECO head pleads to bribes to Ben Stevens and cohorts

Jake Metcalfe - It would be irresponsible not to investigate Don Young and Ted Stevens
© AlaskaReport News
---
Millionaire real estate developer, Bob Penney has claimed to be remarkably ignorant of the true value of the riverfront property he sold to Sen. Lisa Murkowski (R-AK) last year. TPM has tape of him saying otherwise last April - just before the sale!