Your Black Muslim Bakery raided in Oakland
August 3, 2007
Oakland, California - An Oakland bakery called Your Black Muslim Bakery was raided Friday morning and authorities say more than a dozen people were detained as the result of a yearlong police investigation into a number of crimes, including murder, robbery and kidnapping.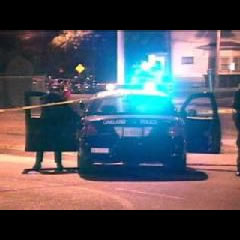 It was not immediately known if the raids -- at the bakery and three other Oakland homes -- were related to the sidewalk assassination of Oakland reporter Chauncey Bailey. Sources say he was doing an investigative piece on the troubled splinter group not associated with the Black Muslims.
Oakland Deputy Police Chief Howard Jordan would not comment if the raids connection to Bailey's slaying.
"These raids were (launched) to seek evidence in several violent felonies including murder, robbery and kidnapping," Jordan said.
A police source said the raids were in connection to three murders in the last six weeks in Oakland including Bailey's murder.
Authorities said that four search warrants had been issued and the raid of the bakery at 59th and San Pablo in Oakland triggered the start of the law enforcement crackdown by officers from San Leandro, Fremont as well as Oakland related to an ongoing investigation stemming back "at least a year".
The group has had a violent history. The founder -- Yusuf Bey -- fought accusations that he had raped or molested several girls who worked at Your Black Muslim Bakery between 1976 and 1995. When he died in 2003, he was awaiting trial on charges he sexually abused a girl who was 13 when she began working at the bakery.
A violent succession battle ensued. Antar Bey, the son and Yusuf's designated heir, was gunned down as he talked on his cell phone at an Union 76 gas station in Oakland in October 2005. That slaying still remains under investigation.
The group gained further attention in Nov. 2005 when several members were charged and pleaded no contest to trashing liquor cases at local convenience stores.
© AlaskaReport News
---