Republican Bob Allen arrested in male sex scandal
August 4, 2007
Tampa, Florida - Florida Republican Bob Allen, the Tampa Police Union's 2007 Lawmaker of the Year, was arrested for soliciting an undercover officer for oral sex in a public restroom.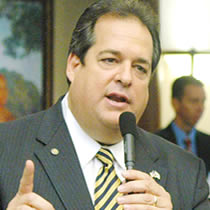 Allen recently sponsored a bill to crack down on soliciting sex in public parks.
Allen claims he was feeling nervous and offered sex to get away from a man he didn't trust.
The Republican lawmaker has repeatedly declared his innocence.
In the tape-recorded conversation with police after his arrest, Allen indicates he was scared when approached in Tampa's Veterans Memorial Park men's room. He said "This was a pretty stocky black guy, and there was nothing but other black guys around in the park."
Allen didn't know he was talking to a policeman until he pulled out a badge. He explained his behavior shortly after his arrest.
"I went ahhh -- I'm about to be a statistic. You catch all kinds of people, so a legislator is like whoa! You know, especially one that's the (police union) guy of the year...this is too ironic!"
Allen was charged with solicitation for prostitution.
Allen sponsored six different sex crime bills this year alone and three of them focus on indecent exposure and soliciting sex.
Bob Allen also chairs the House Energy Committee and co-chairs Senator John McCain's presidential campaign in Florida.
© AlaskaReport News
---