Giuliani leads Republicans in new polls
August 14, 2007
Washington, DC - Former New York City Mayor Rudy Giuliani is leading the field of Republican presidential candidates in two new national polls released Tuesday.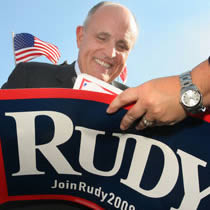 Former Massachusetts Governor Mitt Romney is gaining ground in both polls.
Giuliani leads Romney and former Tennessee Sen. Fred Thompson by at least ten points in both surveys.
A CBS News poll conducted August 8-12 has Giuliani on top with 38 percent, followed by Thompson at 18 percent and Romney with 13 percent. Thompson dropped seven percentage points since last month while Romney gained five percentage points in that same time. The number of Republicans who say they are satisfied with their candidate choices has increased 16 percent since June, a finding that may account for Romney's uptick in support and Thompson's decline.
The CBS News Poll surveyed 302 Republican primary voters and carries a margin of error of plus or minus six percentage points.
In a separate poll conducted August 9-12 by American Research Group (ARG), Romney gained six percentage points since July to tie Thompson for second place at 16 percent. Both trail Giuliani who tops the poll with 27%.
© AlaskaReport News
---