Republican Larry (anti-gay) Craig arrested in gay sex scandal
August 27, 2007
Washington, DC - Republican Senator Larry Craig of Idaho was arrested in June and pleaded guilty to rubbing a man's leg in the men's bathroom at the Minneapolis-St. Paul International Airport.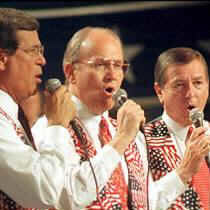 Craig, 62, is married (for now) and in his third term in the Senate. He is up for re-election next year.
While the criminal records did not provide details of why Craig was arrested, Roll Call newspaper reported Monday that he was apprehended by a plainclothes police officer investigating complaints of lewd behavior in an airport men's room.
At one point during the police interview, Craig handed the plainclothes sergeant who arrested him a business card that identified him as a U.S. Senator and said, "What do you think about that?" the report states.
In a statement released Monday evening, Craig denied any inappropriate conduct and said he now regrets his guilty plea.
"At the time of this incident, I complained to the police that they were misconstruing my actions. I was not involved in any inappropriate conduct," he said. "I should have had the advice of counsel in resolving this matter. In hindsight, I should not have pled guilty. I was trying to handle this matter myself quickly and expeditiously."
Craig, 62, paid a $500 fine when the case came up for disposition Aug. 8 in Hennepin County Municipal Court in Bloomington, according to state criminal records.
Minnesota law defines disorderly conduct as brawling, disturbing a meeting or engaging in "offensive, obscene, abusive, boisterous or noisy conduct."
According to Roll Call, the arresting officer alleged that Craig lingered outside a rest room stall where the officer was sitting, then entered the stall next door and blocked the door with his luggage. According to the arrest report, Craig tapped his right foot, which the officer said he recognized "as a signal used by persons wishing to engage in lewd conduct."
Craig's record on Gay rights
Voted Yes on constitutional ban of same-sex marriage. (June 2006)
Voted No on adding sexual orientation to definition of hate crimes. (June 2002)
Voted No on expanding hate crimes to include sexual orientation. (June 2000)
Voted Yes on prohibiting same-sex marriage. (September 1996)
Voted No on prohibiting job discrimination by sexual orientation. (September 1996)
© AR News
---