FEMA fakes news conference for better image
October 26, 2007
FEMA, the Federal Emergency Management Administration, used its own staff as fake news reporters at a news conference Tuesday to make give the troubled organization a better image.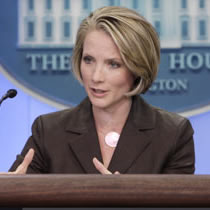 No real reporters were able to attend FEMA's televised briefing on the fires in California on Tuesday because they were only given 15 minutes notice.
Instead, FEMA press officers asked easy and flattering questions.
A spokeswoman for Homeland Security Secretary Michael Chertoff called the incident "inexcusable and offensive".
"We have made it clear that stunts such as this will not be tolerated or repeated," Laura Keehner said, adding that the department was considering whether or not to reprimand those responsible.
FEMA employees posed as reporters at Tuesday's "news briefing" with Deputy Administrator Harvey Johnson because an agency was providing a live video feed to TV networks, according to the Washington Post.
Six questions were posed by the Fema officials and Johnson even used the typical practice of calling for a "last question".
"I'm very happy with Fema's response," Johnson said in reply to one query from an employee.
After the Washington Post published details of the briefing, which one of its reporters listened to by phone, Johnson apologized for the "error of judgement" and promised to do better in future.
"Our intent was to provide useful information and be responsive to the many questions we have received," he said in a statement.
"We are reviewing our press procedures and will make the changes necessary to ensure that all of our communications are straight forward and transparent."
Fema was widely criticized for its response to Hurricane Katrina. Its former administrator, Michael Brown, was forced to resign despite President Bush initially declaring he was doing a "heck of a job".
© AR News
---