Exxon wins delay against Alaska again
October 29, 2007
Washington - The Supreme Court will hear Exxon's case to determine if the $2.5 billion in punitive damages owed for the 1989 Alaska oil spill is excessive.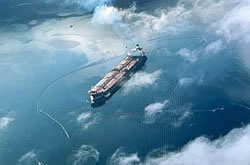 The Exxon Valdez ran aground with 53 million gallons of crude oil in its tanks in Alaska's - then pristine - Prince William Sound and fouled more than 1,200 miles of Alaskan coastline.
Delayed spill response efforts by Exxon allowed the oil to spread far more than it would have if it was contained properly immediately after the grounding.
The justices said they would consider whether the company should have to pay any punitive damages at all. If the court decides some money is due, Exxon is arguing that $2.5 billion is excessive under laws governing shipping and prior high court decisions limiting punitive damages according to the Associated Press.
The Supreme Court will probably will hear the case in the spring.
Exxon claims it already has paid $3.4 billion in clean-up costs and other penalties resulting from the oil spill, which killed hundreds of thousands of seabirds and marine animals and still contaminates the sea around Prince William Sound.
Exxon also claims it should not be held responsible for the mistakes of the ship's drunken captain, Captain Joseph Hazelwood - even though the company knew he was an alcoholic.
"Exxon placed a relapsed alcoholic, who it knew was drinking aboard its ships, in command of an enormous vessel carrying toxic cargo across treacherous and resource-rich waters," the plantiffs said.
Exxon Valdez Oil Spill March 23, 1989
© AlaskaReport News
---