State Department cover-up - Blackwater massacre guards given immunity
October 30, 2007
Washington, DC - Bush administration investigators from the State Department promised Blackwater bodyguards involved in a massacre last month of 17 Iraqi civilians that their statements would not be used to prosecute them.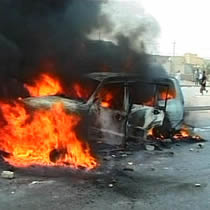 The interference by the State Department potentially complicates any efforts to bring criminal charges in the case.
"They were told their statements can't be used against them," said one U.S. government official. "But this doesn't necessarily mean charges can never be brought against these guys."
A second official called the limited immunity "surprising and confusing" and questioned the authority of the State Department's diplomatic security investigators to unilaterally make immunity decisions.
The Justice Department and FBI refused any comment on the investigation, which the State Department announced in early October. Blackwater also declined comment.
An FBI team has been in Baghdad investigating the deadly Sept. 16 killings by security contractors hired by the State Department to protect American diplomats in Baghdad.
North Carolina-based contractor Blackwater USA claims its guards came under fire while protecting a State Department convoy and acted properly in self-defense, but Iraqi authorities have called the killings "premeditated murder."
© AR News
---