November 18, 2009
NOAA releases draft pollock stock assessment
From a NOAA press release:
This week NOAA fisheries researchers presented scientific information to the North Pacific Fishery Management Council's Groundfish Plan Team that will underpin later decisions on harvest levels for Eastern Bering Sea pollock.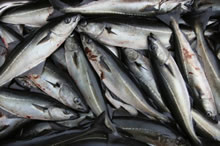 The scientific analysis points toward a 2010 allowable biological catch of Eastern Bering Sea pollock that would be similar to the allowable biological catch that was set for 2009 - 815,000 tons.
The North Pacific Fisheries Management Council is scheduled to set the 2010 total allowable catch for Eastern Bering Sea pollock during their December meeting in Anchorage. The actual amount of the Eastern Bering Sea pollock harvest-the total allowable catch-is set at or below the allowable biological catch level recommended by scientists.
"The 2009 survey data presented in September indicated that the 2008 two-year projection for biomass would likely be revised downwards after further analysis, and that has proven true," said Doug DeMaster, Director of NOAA's Alaska Fisheries Science Center. "These adjustments demonstrate that our data collection and analyses are as up-to-date as possible and provide NOAA Fisheries and the Council with information vital for responsive fisheries management."
The North Pacific Fishery Management Council's Groundfish Plan Team reviews, summarizes, and compiles scientific stock assessments for each species or species group. These summaries include acceptable biological catch recommendations for consideration by the Council's Science and Statistical Committee. The Science and Statistical Committee will provide another level of review and make recommendations for the allowable biological catch by species/species group.
Researchers used data from scientific observers, combined with data from the 2009 summer bottom trawl and mid-water acoustic surveys of pollock to prepare the analyses. The prepared documents also discuss the statistical uncertainty which forms the basis of the risk-averse harvest control rules for pollock.
"The harvest control rules explicitly consider uncertainty in setting the acceptably biological catch and overfishing levels. These rules require highly responsive management actions when the spawning stock estimates drop below the target stock biomass levels. Surveys and assessment analysis provide updates on past projections and allow for adjustments that are closely linked to timely and direct observations," said DeMaster. "Near real-time fishery monitoring plus observer sampling for biological information, extensive regular survey efforts, and integrated statistical modeling approaches help ensure the sustainability of Eastern Bering Sea fisheries and the ecosystem."
In addition to the Eastern Bering Sea pollock assessment, researchers develop a report on ecosystem considerations, along with individual assessments for the other principal groundfish stocks in region. The ecosystem chapter summarizes a wide variety of biological and physical environmental trends to provide the Council with information to evaluate broader issues related to ecosystem function and the impacts of fisheries.
The Alaska pollock fishery is the largest fishery, by volume, in the United States. It is known for its strong management, conservative catch levels, near real-time reporting and scientific fishery observers who track catch levels and closely monitor accidental bycatch of other marine species. The pollock fishery has a very low bycatch rate, averaging one and a half percent by weight and uses pelagic trawls, which are designed to be fished in the water column rather than on the ocean bottom.
© AlaskaReport.com All Rights Reserved.
---