Sean Taylor shot by intruder
November 26, 2007
Washington Redskins player Sean Taylor has been shot twice at his home early Monday morning by an intruder in Miami and had to be airlifted to a hospital.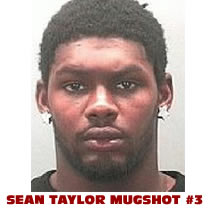 Taylor was airlifted to Jackson Memorial Hospital around 2 a.m., according to police.
A family friend, who did not want to be identified, told WPLG that Taylor was shot twice.
Miami-Dade police confirmed there was a shooting at about 1:30 a.m. at Taylor's home in Palmetto Bay, but would not confirm if Taylor was the person who had been shot, reports WPLG.
Police investigators were seen leaving with bags of evidence collected inside the home.
Taylor's short NFL career has been overshadowed somewhat by controversy. He has fired two of his agents, walked out of a mandatory NFL rookie symposium for which he was fined, and was accused of spitting on Cincinnati Bengals player, T.J. Houshmandzadeh, who later called Taylor "a punk," during a 2004 game at FedEx Field.
Police Contacts
On June 3, 2005, Taylor was named publicly as a "person of interest" by Miami-Dade County police in regard to a Miami assault case involving firearms, and was being sought for questioning. "We need to speak to him, we don't know if he's a victim, witness or suspect," Miami-Dade police spokesman Mary Walters said. Taylor allegedly was present at, and possibly involved in, an incident on June 1, 2005 in Miami, in which bullets allegedly were fired into a stolen vehicle.
On June 5, 2005, ESPN and The Miami Herald both reported that Taylor, accompanied by his lawyer, surrendered to Miami-Dade police at approximately 10pm ET on June 4 at Miami's Cutler Ridge district police station, where he was transported to Miami's Turner Guilford Knight correctional facility. He was charged with aggravated assault with a firearm, a felony, and misdemeanor battery.
On June 5, Miami-Dade police issued a statement indicating that Taylor had been arrested for aggravated assault with a firearm (a felony) and battery (a misdemeanor), for allegedly pointing a gun at a person over a dispute over two ATVs that Taylor claimed were stolen.
Taylor then allegedly left the scene, but returned shortly and punched one person.
The Associated Press reported on June 5 that Taylor was held in detention at Miami's Turner Gilford Knight correctional facility and released the evening of June 4 after posting bond of $16,500. The Miami-Dade County Clerk's Office announced that Taylor would soon be officially arraigned on the charges.
The Washington Post reported on March 3, 2006 that Taylor's trial has been postponed until April 10, 2006. Days before that date, the trial was moved back once more, this time by a week, because of conflicts with Passover and Easter celebrations.
© AlaskaReport. All Rights Reserved.
---