November 11, 2008
Despite landslide defeat, Palin considers 2012
Palin changes her mind about running in next election
A week after saying "2012 sounds so far off that can't even imagine what I'd be doing then," Alaska governor Sarah Palin now says she'd consider a run for the White House in 2012 or beyond.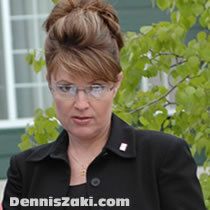 "Don't let me miss the open door. Show me where the open door is and even if it's cracked up a little bit, maybe I'll just plow right on through that and maybe prematurely plow through it, but don't let me miss an open door. And if there is an open door in '12 or four years later, and if it is something that is going to be good for my family, for my state, for my nation, an opportunity for me, then I'll plow through that door," Palin said in an interview Monday.
Palin also blamed the GOP on her landslide defeat last week. "I think the Republican ticket represented too much of the status quo, too much of what had gone on in these last eight years, that Americans were kind of shaking their heads like going, wait a minute, how did we run up a $10 trillion debt in a Republican administration?"
"How have there been blunders with war strategy under a Republican administration? If we're talking change, we want to get far away from what it was that the present administration represented and that is to a great degree what the Republican Party at the time had been representing. So people desiring change I think went as far from the administration that is presently seated as they could. It's amazing that we did as well as we did."
Voters have a different opinion of Palin running again. From CNN:
An NBC News/Wall Street Journal poll in October showed she had become a bigger drag on McCain than President Bush, with voters citing her qualifications as their primary concern.

A CNN poll released last weekend showed Palin's unfavorable ratings were twice as high as when McCain picked her, and 57 percent of Americans believed she didn't have the personal qualities a president needed.

As for the future, the poll indicated that only four in 10 voters would support Palin if she chooses to run for president in 2012.
© AlaskaReport.com All Rights Reserved.
---