November 27, 2008
Corrupt Bastard Club member Bruce Weyhrauch loses appeal, trial looms
Weyhrauch was arrested in May 2007 along with now-convicted Pete Kott
Former Alaska state representative Bruce Weyhrauch has lost his appeal to the 9th Circuit Court of Appeals as they ruled that Weyhrauch can be tried for failing to disclose his efforts to get a job with VECO Corp. even if state law did not require such disclosure.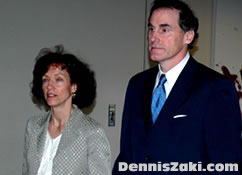 "Accordingly, the government may proceed on its theory that Weyhrauch committed honest services fraud by failing to disclose a conflict of interest or by taking official actions with the expectation that he would receive future legal work for doing so," the appeals judges said in their Wednesday ruling.
Weyhrauch may still appeal to the U.S. Supreme Court, if he decides not to, he will head to trial in Anchorage.
Weyhrauch was arrested in May 2007 along with former House Speaker Pete Kott. Kott was convicted of similar charges and sentenced to 6 years. He's now in an Oregon prison.
From an FBI statement upon Weyhrauch's arrest:
"Weyhrauch allegedly solicited employment from Company A after he left the State House. Weyhrauch allegedly told the company's executives that he would support their position on the PPT bill. After mistakenly voting the "wrong way" on an amendment that the company and representatives of three other oil companies did not support, Weyhrauch changed his vote on instructions from Kott and the company's CEO.
The indictment alleges that Weyhrauch, like (Pete) Kott, voted in favor of versions of the PPT bill supported by Company A and the three other companies, lobbied other lawmakers for their support, and offered assistance to Company A and its executives by providing official support for the natural gas pipeline and the PPT bill.
"These two indictments allege that the defendants sold their offices in Alaska's State House to an influential energy company in exchange for cash payments, loans, jobs for relatives and the promise of future employment," said Assistant Attorney General Alice S. Fisher. "There is no room for bribery and extortion at any level of government - federal, state or local. We will work hard to bring to justice elected officials who betray their duty to their constituents. I thank the federal prosecutors on this case and the team of agents from the FBI and IRS for their dedication to this investigation."
Related Weyhrauch stories:
Corrupt Bastard Club coverage and links
Judge rules "Corrupt Bastards" be tried separately
Two Ex-Alaska Republican legislators indicted for bribery, extortion
Corrupt Bastard Club Members Indicted
FBI statement on Kott, Weyrauch, and Kohring indictments
© AlaskaReport.com All Rights Reserved.
---