Sea ice finally growing, but slowly
December 6, 2007
Courtesy of Far North Science
By Doug O'Harra

After shrinking to its smallest summer extent in modern times, the pack ice of the Arctic Ocean has slowly begun to refreeze.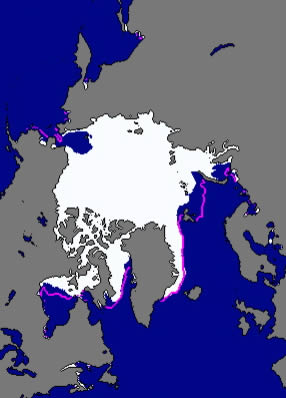 Source: NSIDC
By the end of November, the new ice and floes had grown enough to cover an estimated 3.9 million square miles, according new online analyses posted this week by the National Snow and Ice Data Center ice index.
Remember, sea ice bottomed out at about 1.59 million square miles in September - reflecting the utter dissolution of a summer ice habitat the size of California and Texas combined.
Over the past two months, the frozen world has almost doubled. The Arctic's November ice no longer sizzles in record territory: 2006 had slightly less ice cover. So this is good news? Not especially.
Don't forget that November 2007 extent covers only 90 percent of the 4.3 million square miles normally covered by this time of year, based on the 1971-2000 mean.
Making matters worse, the missing ice has left the Chukchi Sea largely wide open, a situation that has threatened several Native villages with erosion during storms.
The latest charts and analysis from ice desk at the National Weather Service in Anchorage shows a vast reach of open water stretching northwest of the Seward Peninsula.
Still, an expected plunge in temperatures could start filling in the northern Chukchi Sea, according to the text analysis.
The most recent chart posted online by the National Ice Center provides the same Chukchi information in color.
---

Most of Far North Science is written and edited by Doug O'Harra, a writer and journalist based in Anchorage, Alaska.