Undercover Republican Lieberman endorses McCain
December 17, 2007
Senator Joe Lieberman, a Democrat turned independent that votes Republican, is endorsing Republican John McCain for president.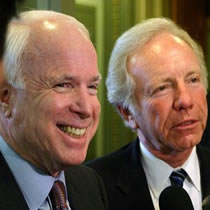 Lieberman is planning to announce his support for McCain at a Monday morning event in New Hampshire, reports CNN, but the campaign is keeping a close eye on a winter storm that could force it to be rescheduled.
The McCain campaign declined to comment on the source's account and would not confirm it. But Lieberman's endorsement could help emphasize McCain's national security standing, show his ability to work across party lines and perhaps help persuade independent voters in New Hampshire to support his 2008 presidential bid, as many of them did in 2000.
Like McCain, Lieberman has been a vocal supporter of the Iraq war. For Lieberman, it is an issue that caused him to split with his own political party after losing the Democratic Senate primary in 2006. Lieberman refused to back down, and won reelection as an Independent.
© AlaskaReport. All Rights Reserved.
---