February 27, 2009
Why are our Chinook salmon runs failing?
From the Association of Village Council Presidents
On June 23, 2008, the Association of Village Council Presidents issued a press release titled, "Does our subsistence way of life have to end so that the Bering Sea pollock trawl fishery can continue?" Stated within the press release was our outcry on the continuation of the Bering Sea Pollock Trawl Fishery's wasteful and destructive practice of killing Chinook salmon bound for western Alaska and its implications on the commercial fishermen and their families.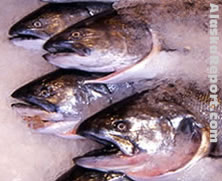 We stated in the press release the following: "Many of our families have not achieved their subsistence needs for the coming winter. Our commercial fishermen have not and will not meet their cash needs to pay for the bills that have accumulated over the winter. Compounded by high gasoline and home heating costs, this makes for dire situations in most of our villages."
Mr. Nick Tucker struck the nerve of the situation in an article that appeared in the Anchorage Daily News on January 15, 2009 when he said, "Local commercial fishermen didn't make any money from king salmon - a staple of the economy..."
Following the Tucker letter, a barrage of news articles and reports appeared in the L.A. Times, Seattle Times, New York Times, and CNN confirming the reasons why people were not able to meet their energy and food needs for the winter, and the lack of commercial fishing opportunity among other things. Absent in the articles and reports is the question, why is our Chinook salmon runs failing?
The Yukon River Chinook salmon stocks have never really recovered since the crash of 1998. Regulators of the fishery, both the Alaska Department of Fish & Game and the Office of Subsistence Management instituted severe commercial and subsistence fishing restrictions on our small group of in-state commercial and subsistence fishermen throughout the entire Yukon River drainage depriving our fishermen with the means of supporting and feeding their families.
Meanwhile, the Bering Sea Pollock trawl fishery continues to ravage our resources in a wasteful and destructive manner.
In 2007, the trawl fishery harvested 122,000 Chinook salmon while our people lived with instituted harvest, gear, time, and area restrictions. Additionally, state and federal laws and regulations prohibit us from discarding unwanted species in our subsistence and commercial fisheries with harsh penalties which may include the confiscation of our boats, nets, and harvest.
The Bering Sea Pollock Trawl Fishery, meanwhile, is allowed to wastefully and destructively discard salmon and other species without penalty.
Please join us in encouraging the North Pacific Fisheries Management Council to reduce the annual by-catch of our Chinook Salmon to 30,000 with a goal of zero by-catch. You can send me resolutions and letters telling the North Pacific Fisheries Management Council that you do not endorse and will not tolerate the continued waste of our salmon resources to the following address:
North Pacific Fisheries Management; 605 W. 4th Ave., Suite 306; Anchorage, AK 99501-2252; Fax: (907) 271-2817.
Comment deadline for the Draft Environmental Impact Statement was February 23, 2009. We thank you on behalf of our many families and communities that depend on salmon for their survival and existence for your assistance.
Any questions regarding this release can be directed to Timothy Andrew, Director of Natural Resources (tandrew@avcp.org) at (907) 543-7340 or Myron Naneng Sr. (mnaneng@avcp.org) at (907) 543-7301.
© AlaskaReport.com All Rights Reserved.
---