Obama wins Alaska caucus
February 6, 2008
Barack Obama won Alaska's caucus on Tuesday in a landslide with 39 of 40 districts reporting, Obama was leading the Democratic race with 74 percent of the vote. Hillary Clinton had 25 percent.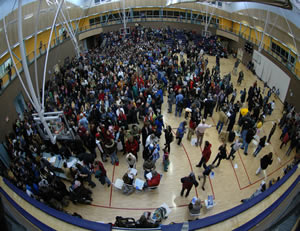 From a Alaska Democratic Party press release: With 98% (or 39) of Alaska's 40 State House Districts reporting, below are partial results of the Alaska Democratic Presidential Caucus.
Percentage of delegates awarded thus far to each candidate/number of delegates awarded/number of supporters at caucus:
Barack Obama – 74.38% - 302 delegates – 6471 supporters
Hillary Clinton – 25.37% - 103 delegates – 2138 supporters
Uncommitted – .25% - 1 delegate – 12 supporters
Total delegates awarded: 406 (of 411)
Total number of participants voting at caucuses: 8621
Delegates are elected from each State House District to attend the Alaska Democratic Party's state convention based on the candidates' proportional strength in the presidential fan out Feb. 5. The state convention will be May 23-25 in Palmer, Alaska. At the state convention, 13 delegates will be elected to the 2008 Democratic National Convention based on the candidates' proportional strength at the fan out there. Alaska has an additional 5 "unpledged" delegates (also called "super delegates") to the national convention, for a total of 18 delegates to the national convention.
© AlaskaReport.com All Rights Reserved.
---