Belavia plane crashes in Armenia
February 14, 2008
A Belavia airlines plane has crashed and burst into flames shortly after taking off from Yerevan airport in Armenia with 21 passengers on board.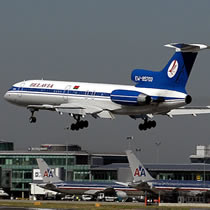 The jet, operated by the Belarussian airline Belavia, hit its left wing on the runway during takeoff and erupted into flames, the state civil aviation agency's spokeswoman Gayan Davtian said.
There were no fatalities, but four people were taken to hospital with serious burns, a local official said.
Yerevan's Zvartnots airport was temporarily closed after the crash, which took place at 4:15 am local time.
"Nearly everyone on board received burns of various degrees," said Gayane Davtyan, a spokeswoman for Armenia's civil aviation authority.
There were 18 passengers and three crew on flight 1834. The cause of the crash is still unknown.
© AlaskaReport.com All Rights Reserved.
---