March 23, 2008
Fishing boat sinking, 4 dead, 1 missing
UPDATED: 6:19 pm
For latest updates on the Alaska Ranger click here
Four crew members from the F/V Alaska Ranger died Sunday and one is still missing after the catcher processor boat sunk 120 miles from Alaska's Dutch Harbor.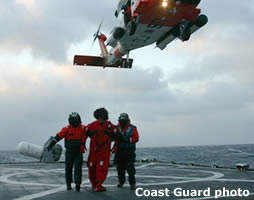 The Coast Guard was able to save 42 of the 47 crew members.
When a mayday was first reported, the 206-foot ship was in 6-to-8 foot seas with about 25 knot winds.
AUDIO:
Mayday call from the Alaska Ranger to the Coast Guard.
From a Coast Guard press release:
The Coast Guard and fishing vessel Alaska Warrior have recovered 46 of 47 crewmembers from the fishing vessel Alaska Ranger 120 miles west of Dutch Harbor. Four crewmembers are reported deceased and one missing.
"Saving 42 people in Bering Sea in the winter is an incredible accomplishment," said Commander Todd Trimpert, Chief Incident Management 17th Coast Guard District and experienced Alaska rescue pilot, "we were very fortunate to have the Alaska Warrior in the area."
Crews from an H-60 Jayhawk helicopter from St. Paul, H-65 Dolphin helicopter deployed aboard CGC Munro, C-130 Hercules airplane from Air Station Kodiak and CGC Munro from Kodiak rescued 20 crewmembers in 10-foot seas and 25-knot winds seas while the fishing vessel Alaska Warrior rescued 22.
"When we got on scene there was a spread, at least a mile long, of 13 survivors in gumby suits with strobe lights," said Aviation Survival Technician 2nd Class O'Brien Hollow, Coast Guard Air Station Kodiak, "I went down without disconnecting from the helicopter and picked them up one at a time."
A second C-130 from Kodiak, the CGC Munro and an H-60 from St. Paul are searching for the missing crewmember. Alaska Ranger crewmembers will be taken to Dutch Harbor.
The Alaska Ranger has been confirmed sunk. The names of the deceased are not being released pending next of kin notification.
© AlaskaReport.com All Rights Reserved.
---
Coast Guard video of the search for survivors
---