March 6, 2009
Emmonak's Nicholas Tucker rips Sarah Palin for "disrespect"
Emmonak's Nicholas Tucker wrote to AlaskaReport.com editor Dennis Zaki and asked us to print his letter about his dissatisfaction with Governor Sarah Palin's slow and lackluster response to the food/fuel crisis plaguing the villages of Western Alaska.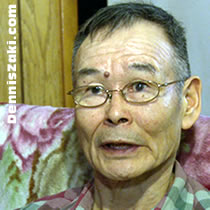 First off. I am outraged.

She had mentioned that while I was in Russian Mission and Marshall. Think of this: Did Martin Moore and I have to go meet her there? Why did not she come here to Emmonak? It took away the most precious time of my life to have to be absent from my granddaughter's and nephew's first Yup'ik dance in Alakanuk that evening. We returned late and Dorothy, my wife, had to go down. By the time I got home, I was already over half hour late and would have been over an hour late if I had been able to go - my oldest son's snowmachine had no gas.

I don't have the latest figures, but Martin had told me that there are over 20,000 people in our region, the Wade Hampton district. If, at least, 50% are employable and are not, where are these 10,000 young and older men and women going to exodus in trying to find jobs; who has 10,000 jobs available?

I felt like Governor Palin treated Emmonak with most disregard and disrespect by not coming here where it all started. Instead, we had to go up to Russian Mission to meet her and followed her to Marshall.

I was there. About whom and to whom was she referring that top leadership in what village(s) should be changed. This is a blow to all rural villages telling each one of us that our past and current leadership isn't worth being there! Why and on what basis? This is message is dismal, not of hope. How do I take things? Here, I had a person whom I voted for and who turns around and stabs us? I tell you. I want things done for Emmonak, AND now, for all rural villages. We deserve better than that: respect. In my original letter, I stated that we do not have time for debates - attention was needed then and it will not disappear overnight. Dennis, usually, I refrain from this type of outrage, but I am hurt to the core of my heart and spirit. Let's see some things get done - talk and PR are cheap until you have solid accomplishments to back them up. Our villages need that now. That is why I mentioned to our Governor, "Who else do we have to look up to?"

Emmonak leadership has always been superb, otherwise, we would not have our present infrastructure as it is. It has advanced from a tiny village of about four houses eighty or so years ago to some 220 houses. Considerating the harsh, remote challenges, it has paved its way to what it is now. Yes, we have a very long way to go in terms of matchingup with Bethel, Anchorage, Fairbanks and Juneau. I have faith in my fellow rural villages and their leadership. They have brought their villages to where and what they are today with challenges greater than most in our vast state. Is it not embarrassing enough to have to cry out, let alone be put down by our state leadership? I think all rural Alaska deserve apology and never to be treated like this again. We are unique to the state, contribute our rich resources into the state and urban cities and barely have anything in return to improve ourselves. How about a 50/50 split between the state and the region where resources are extracted from; then each region can split its 50% similar to the 7(i) distribution. I doubt if anyone will hear me cry out again. I believe our region stands to have one of the richest gas deposits right beneath my house! Will I still cry out?

Again, Dennis, I am an open man, but I feel insulted and on behalf of our rural native villages.

Your groups' donations are ever on our minds. They have been used wisely. Our Emmonak Tribal Council staff receives and distributes the donations; for cash donations, they have a superb accounting. Please update your Mudflats bloggers. At 63, I work to get things done - not to be offensive. We are most grateful to them! I was planning on contacting you or try something on Mudflats for a change. But, like I said to Lt. Governor Parnel, "I do not blog." (He had remarked that I was a good blogger when we meant in Russian Mission)."
© AlaskaReport.com All Rights Reserved.
---