March 6, 2009
Sen. Begich Helps Secure Millions in Public Safety Grants for Alaska
Communities across the state eligible for funding in recovery act
Nearly two dozen communities across Alaska are eligible for nearly $10 million in crime fighting grants funded by the American Recovery and Reinvestment Act (ARRA). The U.S. Justice Department announced the funding today, which will support a variety of activities to prevent and control crime and improve the criminal justice system.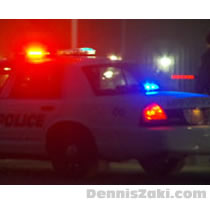 "At a time when communities across Alaska are working to keep crime rates down, this is welcome news from the economic recovery act," Sen. Begich said. "This money will give law enforcement agencies the tools they need for technical assistance, training, special equipment and more."
Alaska will be getting $9.6 million in JAG funds for eligible communities including Fairbanks, Kenai, Homer, Soldotna, Ketchikan, the Northwest Arctic Borough, Kotzebue, Kodiak Island, the Mat-Su Borough, Sitka, Anchorage, Cordova and more.
According to the Justice Assistance Grant Program (JAG), the funds can be used for state and local activities for law enforcement programs; prosecutions and court programs; prevention and education; corrections; drug treatment programs and more. JAG funds are based on a formula using population and crime statistics while also making sure each state receives an appropriate share.
"As communities across Alaska face cutbacks due to budget problems, the availability of these crime-fighting dollars couldn't come at a better time," Begich said. "These sorely needed federal funds will put Alaskans to work doing vital jobs protecting our communities."
For a state by state breakdown and a look at the Alaska list along with an explanation of how the program works, go to http://www.ojp.usdoj.gov/BJA/recoveryJAG/recoveryallocations.html.
From a Senator Mark Begich press release:
© AlaskaReport.com All Rights Reserved.
---