March 19, 2009
Begich disappointed Gov. Palin rejecting millions for education
From a Mark Begich press release:
U.S. Sen. Mark Begich is urging the Alaska State Legislature to act swiftly in accepting the remaining stimulus dollars Gov. Palin is leaving on the table. At a news conference today, the governor said she is accepting roughly $515 million of the estimated $930 million coming to Alaska in the American Recovery and Reinvestment Act approved by Congress and signed by the President.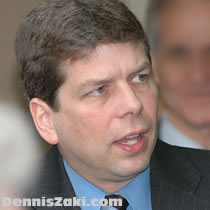 Gov. Palin said she is only taking dollars tied directly to capital projects and infrastructure investment. She said she won't accept millions of dollars for education, including Title I money and money for special education, and money for unemployment benefits. The governor said she is leaving any further acceptance of the remaining stimulus dollars up to the legislature.
"I trust the legislature will do the right thing and take Alaska's share of the money for education in the economic recovery package," Sen. Begich said. "We owe it to our children to give them the most opportunities possible, and this is money fairly allocated to Alaska in this stimulus package."
In her news conference, the governor also said she is not accepting money designated for vocational rehabilitation, public safety, supplemental nutrition, and funds for the Department of Health and Social Services for immunizations and health records.
"The economic recovery package was passed to create jobs, stimulate the economy and support thousands of Alaskans and millions of Americans working hard every day to provide for their families and stay in their homes. Much of the money the governor says she will leave up to the legislature to decide whether to spend would support Alaskans in a variety of other areas while they cope with the current dire economic conditions our whole country is facing," Sen. Begich said.
Begich added he will work with state legislators to help them understand the value of the economic recovery money and how it can help Alaska families.
The deadline for the Governor to accept the money is April 3.
© AlaskaReport.com All Rights Reserved.
---