April 3, 2009
Eight Months and Counting...Palin again delays release of public records
From an Alaska Democratic Party press release:
The Alaska Democratic Party today objected to a request from Governor Sarah Palin's Office for another two months of additional time to release official emails sent and received by Governor Palin in 2007 and 2008.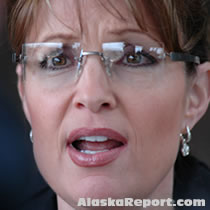 The Alaska Democratic Party's request for the Governor's emails about specified topics already has been pending more than six months, since Sept. 22, 2008. The latest request from Linda Perez, Palin's Administrative Director, to Acting Attorney General Rich Svobodny asks for an additional extension until May 29. As required by regulation, affected parties have an opportunity to comment on the request for delay. In addition to the Democratic Party, records requestors affected include NBC Nightly News, CNN, msnbc.com, The Associated Press, Mother Jones, and several individuals.
"It appears that Governor Palin wants to drag this on indefinitely. Why is it a problem to release those emails? What is she hiding?" said Alaska Democratic Party Chair Patti Higgins. "These repeated delays are not justified. The law mandates that these records be provided at the earliest possible time."
The Public Records Act provides that public records must be be provided within 10 working days of being requested, or as soon as practicable.
"It harms the public interest when citizens cannot get access to the information they are entitled to have by law," Higgins said.
"We trust that Acting Attorney General Richard Svobodny will not make another biased decision for the benefit of the Governor, but rather will act to protect the interests of Alaskans who have a legal right to obtain public records," Higgins said.
© AlaskaReport.com All Rights Reserved.
---