April 6, 2009
Scientology sued over human trafficking and coerced abortions
From a ANONYMOUS press release:
On April 2, 2009, Laura DeCrescenzo filed a complaint against the Church of Scientology International, claiming: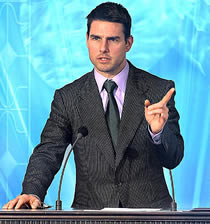 1. rescission of unlawful and fraudulent instruments;
2. unpaid wages and breaches of labor laws;
3. discrimination and invasion of privacy, including illegal use of lie-detectors on staff;
4. human trafficking;
5. intentional infliction of emotional distress; and
6. obstruction of justice.

At age 10, Laura was a full-time staff member. At 12, she left her home in New Mexico, without her parents, and moved to California to join Scientology's elite Sea Organisation, signing a contract to serve for one billion years.
At 17, Laura was coerced into having an abortion. She was told that to have the child she was pregnant with would be "out-ethics", a Scientology term meaning "unethical", because it would interfere with her work for the Church.
Finally, in 2004, Laura swallowed bleach to make the Scientologists think she was suicidal. The ploy worked, and allowed Laura to escape without undergoing the lengthy and tortuous procedure of "routing out".
The suit comes as a further blow to the Church of Scientology following suits alleging labor law violations issued in January 2009 by Marc and Claire Headley.
Sources:
Laura De Crescenzo's Story by Journalist Jonny Jacobsen: http://infinitecomplacency.blogspot.com/2009/04/14-laura-decrescenzos-lawsuit.html
Laura De Crescenzo's Complaint filed April 2, 2009: http://www.scribd.com/full/13912796?access_key=key-elkvgaz37cbbx9pkg8h
Laura's Story as originally told at whyweprotest.net : http://www.mediafire.com/?mnji0lyikf1
Marc Headley's Amended Complaint: http://www.scribd.com/full/12565013?access_key=key-1bdwxztds5mz3ryw8oei
Claire Headley's Amended Complaint: http://www.scribd.com/full/12565010?access_key=key-191r3kgtpfaqt9ytei17
© AlaskaReport.com All Rights Reserved.
---