April 7, 2009
Senator Mark Begich Opposed to Missile Defense Cuts
Defense Sec. Announces $1.4 Billion Reduction to Program
In light of North Korea's ballistic missile test disguised as a satellite launch over the weekend, Sen. Mark Begich today urged the Defense Department and the President to reconsider its proposal to reduce the Missile Defense program, some of which is based in Alaska.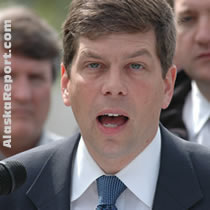 Secretary of Defense Robert Gates announced major cuts to defense spending including reducing the budget for the Missile Defense Agency by $1.4 billion. Gates said he does not propose to increase the number of ground-based interceptors in Alaska as had been planned.
"But we will continue to robustly fund continued research and development to improve the capability we already have to defend against long-range rogue missile threats, a threat North Korea's missile launch this past weekend reminds us is real," the Secretary said.
"I can't imagine a worse time to talk about cutting the missile defense program with North Korea playing games with international peace and security," Sen. Begich said. "I can't support these cuts as the Missile Defense program at Ft. Greely is a key part of the strategic defense of our state and our country."
Sen. Begich joined a bi-partisan group of senators today in sending a letter to President Obama urging him to not allow the cuts to missile defense programs.
"We write to urge you not to allow deep cuts in U.S. missile defense programs that are critically important to protecting our homeland and our allies against the growing threat of ballistic missiles," the Senators write in the letter. "The threat posed by rogue states with ballistic missiles has been underscored by Iran and North Korea's recent missile tests."
The letter is signed by Sen. Begich, Sen. Joe Lieberman (I-CT), Sen. Jon Kyl (R-AZ), Sen. Lisa Murkowski, Sen. Jeff Sessions (R-AL), and Sen. Jim Inhofe (R-OK).
In his comments, Sec. Gates said his $534 billion budget proposal shows a "fundamental overhaul" in defense acquisition and a shift in priorities from fighting conventional wars to the threats the U.S. faces from insurgents in places such as Afghanistan.
"While I appreciate the Department of Defense's goal of scrutinizing spending and the deployment of resources, cutting the missile defense program is absolutely the wrong choice," Sen. Begich said.
Alaska's Ft. Greely in Delta Junction has 20 long-range interceptor missiles designed to track and destroy incoming threats. Personnel were on high alert over the weekend, tracking the missile launched by North Korea. Officials believe a successful missile launch from North Korea has the capability to reach Alaska and Hawaii.
From a Senator Mark Begich press release
© AlaskaReport.com All Rights Reserved.
---