April 7, 2009
Begich Plans Trip to Afghanistan, Pakistan
Military commander briefings, visits with Alaska troops on itinerary
As part of his responsibilities to Alaska troops and service on the Senate Armed Services Committee, U.S. Sen. Mark Begich today said that he soon will visit Afghanistan, Pakistan and Qatar for briefings by military commanders and local officials and to meet with Alaska troops deployed in the regions.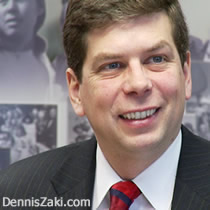 Begich made the announcement during his first address to a joint session of the Alaska State Legislature. The senator said he plans to make the trip with a handful of other senators within the next couple of months.
"I support President Obama's policy of gradual troop withdrawal from Iraq while we increase the presence of Americans and our allies in Afghanistan," Sen. Begich said. "But I remain concerned about whether we're providing our troops adequate resources to get the job done."
"With nearly 30,000 active military men and women in our state and two wars underway, it is vital we look out for the interests of Alaska's troops," he said.
Sen. Begich added he is pleased the U.S. Senate last week agreed to a bi-partisan amendment he helped write to the budget resolution increasing Army troop strength by 30,000. In an Armed Services Committee meeting last week with Army Gen. David Petraeus, commander of the U.S. Central Command, Begich expressed concern about an inadequate number of American troops and allies in Afghanistan which puts U.S. soldiers more in harm's way than necessary.
Before the Legislature, Sen. Begich also raised concerns about North Korea, which launched a rocket capable of reach Alaska over the weekend. He said he will work against proposed cuts to the country's missile defense program, part of which is in Fort Greely, Alaska.
"Defense Secretary Gates has proposed holding Alaska missile defense harmless, but not adding to it. Unless the Pentagon can convince us of a reduced threat from North Korea, I will fight any reduction of the ground-based missile system at Fort Greely," Begich said.
Begich is also a member of the Senate Veterans Committee and called in his speech for improved services and benefits for veterans. Alaska has the highest per capita population of veterans in the nation, about 75,000.
The first-term senator touched on numerous Alaska issues during his address, including:
Economic Recovery Act - As the only Alaska member of Congress to support the American Recovery and Reinvestment Act, Begich said he is proud of the $1 billion in assistance and benefits and estimated 8,000 jobs to Alaskans the bill is bringing to Alaska. It includes millions in repairs to public facilities, education and job training and millions of dollars in tax cuts.
Oil and gas development - Begich said he is working with Congress and the national administration to encourage additional domestic energy production as part of an overall national energy policy. He said Alaska should be receiving the same benefits as Louisiana through outer-continental shelf revenue sharing, which could have meant $900 million to Alaska. Begich also said he's working with the Obama administration to push development of an Alaska natural gas pipeline.
Climate change and Arctic policy - With Alaska America's only Arctic state, Begich said Alaskans should have a leadership role in shaping national climate change and Arctic policy. He urged Senate ratification of the Law of the Sea treaty and said he will work for additional resources for the Coast Guard and coastal communities impacted by global warming.
Children's health care - Begich urged the Legislature to increase coverage for the children of working Alaska families, as a result increased funding provided by Congress for children's health. "In its early years, Alaska's Denali KidCare was recognized as a national leader," he said. "Yet now our eligibility guidelines are too strict, with 44 states offering more generous benefits to working families. That shouldn't be."
From Mark Begich press release
© AlaskaReport.com All Rights Reserved.
---