April 17, 2009
Palin's Claims In-State Gas Line Remains Top Priority
From a State of Alaska press release:
In an effort to avoid any delay for an in-state natural gas pipeline, Governor Sarah Palin is urging lawmakers to approve $9 million in preparatory funding for pipeline work in this year's public works budget. In-state gas remains the administration's top priority this session.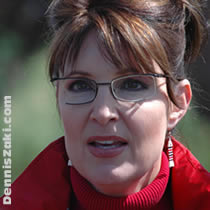 In the House Finance Committee last night, some members expressed concern that the administration had not adequately communicated its position on an in-state gas line.
Members of the administration have testified before committees. In addition, Project Manager Harry Noah has conducted open working groups with legislators. Governor Palin has met regularly with House and Senate leadership this session to discuss plans to jump-start development of an in-state line.
The governor introduced two bills (HB 163/SB 135 and HB 164/SB 136) for in-state gas development that have been heard in the House and Senate energy committees. The House and Senate have passed several in-state gas resolutions, and the House on April 14 amended HB 44 to include language from the governor's bill, HB 163, expanding authority for the Alaska Natural Gas Development Authority.
A four-phase plan for the development of an in-state pipeline was presented by the administration on March 3. The $9 million in funding will advance the project through phase two.
"My focus is Alaska, and this administration has not shifted from our top priority - commercializing our natural gas for Alaskans," Governor Palin said. "This session, we have been working diligently to address statewide energy needs for Alaskans, and the in-state gas pipeline project is a critical component of that effort. I appreciate lawmakers' assistance in moving this effort along."
The Office of the Governor distributed an overview of the plan to House Finance Committee members this morning.
A copy of the plan can be found at: http://www.gov.state.ak.us/pdf/InstateGasPipeline_Apr17-2009.pdf
---