June 4, 2009
Alaska Democrats announce intent to override Governor Palin
From a House Democratic Caucus press release:
House Democrats today sent a letter to Gov. Sarah Palin informing her of their intention to vote to override her veto of $28.6 million in critical federal energy relief. The letter (here) cites several reasons why the Democrats believe Alaska should accept the funds, and it questions the governor's criteria for rejecting the funds.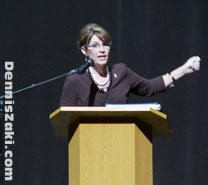 It appears all 49 other states have either already accepted the energy relief portion of the federal stimulus, or are on the verge of doing so. If Alaska rejects the energy money, our portion will likely be divided up between the other states. Democrats believe there is still time to change course and accept these funds for the benefit of all Alaskans.
"I want to work with the governor as much as possible," said Rep. Harry Crawford (D-Anchorage). "But my responsibility is to Alaskans first, and to always doing what is in the state's best interest. Rejecting this money is flat wrong, in my opinion." Crawford has long been a champion of energy independence for Alaska, and said he believes the stimulus dollars can go a long way toward helping the state achieve that critical goal.
"Access to affordable, clean energy is the most important factor in assuring security and prosperity to Alaskan families," said House Democratic Leader Beth Kerttula (D-Juneau). "It affects every aspect of family and community life, from budgeting to health and from safety to peace of mind. Of all the stimulus dollars available to us, these may actually be the most important."
Rep. Sharon Cissna (D-Anchorage) added that rural Alaska communities face even more severe consequences and challenges related to high fuel costs, and that quickly acting to accept the federal stimulus funds would greatly benefit rural Alaskans.
House Democrats believe that by improving Alaska's energy outlook using federal energy stimulus funds, it will become easier for families to survive and businesses to flourish. Reasonable energy prices will also help community organizations, schools and municipalities reduce taxpayer burden and use scarce funds for other needs. Energy security is crucial to Alaska's economic independence.
The Democrats also believe the language of the federal stimulus statute is flexible enough to alleviate many of the governor's stated concerns, and to allow the state to apply the funds in ways that best benefit Alaskans. They are confident accepting the stimulus money will not require Alaska to significantly alter existing building codes, and that Alaskans will retain their full ability to determine our own course. The funds, say the Democrats, could be applied toward specific renewable energy projects, reducing the state's dependence on Outside influences, and could also be used to help make individual Alaskans' homes more efficient, reducing energy costs for families.
The Democrats say they intend to override the governor's veto of the federal energy dollars, though they remain hopeful that the governor will rethink her decision, and work with them for the benefit of all Alaskans.
© AlaskaReport.com All Rights Reserved.
---