July 24, 2009
Request Investigation of Palin Administration
By KC Dochtermann
To: The Honorable Daniel S. Sullivan, Attorney General
State of Alaska

Greetings,

I found it only fitting that I contact you with this request on the eve (and last normal weekday) of Governor Sarah Palin's term before her resignation from her duties as the Governor of Alaska.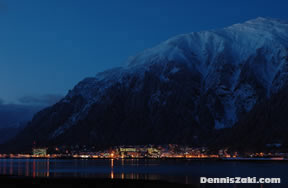 I most humbly request a full investigation into events that took place in the year 2007, and well as events that I reported to take place in the years prior to my initial attempt to begin an investigation.
In January 2007 I quietly contacted Governor Palin's husband, Todd Palin, requesting that Governor Palin and former Attorney General Talis Colberg shield me under the provisions of the Alaska Whistleblower's Act. I spoke with Mr. Palin on the phone, as well as via email. I sent him documentation (via email) that contained an official request that reported a number of potentially unethical and illegal activities that had taken place at the Alaska Seafood Marketing Institute (ASMI) (I was the international program director for ASMI from 2001 to 2007), including workplace harassment, as well as suppression of a report that I had generated as a requirement of my official duties as international program director.
I was contacted by phone shortly thereafter by Attorney General Colberg; he indicated that he would look into my request and be back in touch with me. Shortly thereafter I retained legal counsel; the attorney representing followed up with an acknowledgement letter being sent to Attorney General (AG) Colberg. The only response received was a phone call back to my attorney by the AG's office, indicating that "...it was too political..." to start an investigation.
My situation at my workplace continued to deteriorate until March 22, 2007, when I was placed on administrative leave under very questionable accusations. Considering the high level of stress and duress that I had already undergone, and in further consideration that my wife was pregnant with twins, I chose to quietly resign from my position with the State of Alaska. While I signed an agreement not to bring civil charges against any member of ASMI or the State of Alaska, I still feel I signed the agreement under great duress. I also question the legality of the failure of Governor Palin and AG Colberg to act upon my request to shield me as a State of Alaska employee under conditions of the Alaska Whistleblower Act.
I attempted to contact Governor Palin on April 3, 2008 (Word .doc Here) with a request to begin an investigation into these matters, as well as to provide me with a letter of recommendation, as I was having issues securing employment in a similar position, due to my questionable departure from my position with the State of Alaska. I received a written reply back from the AG's office in May 2008 which stated that an "...independent investigation was conducted...". I nor my legal counsel were ever contacted or notified of such an investigation prior to this notification. I must question how a proper and independent investigation could be performed, when the claimant and their legal counsel was never informed or interviewed.
In December 2008, I contacted by phone Alaska Senator Kim Elton, and informed him of these matters. He requested that I send him all the supporting documentation for he and Alaska Senator Hollis French to review as they both were actively investigating Governor Palin on other personnel matters (the infamous 'TrooperGate' investigation). I completed two packets for the senators, and sent them via courier to Senator Elton on December 31, 2008 (a copy of the cover letter is attached). I attempted numerous times to follow up with Senator Elton on this matter. He did not return my calls, until I was contacted by his legislative aide to be informed that he was resigning form his position in the Alaska Senate to take a new position with the U.S. Department of Interior.
See Letter to Elton (Word .doc)
I contacted Senator Hollis's office and was informed that he had received his copy of the documentation that I sent, but had returned it to Senator Elton's office. I then contacted Senator Elton's aide, and requested that the copies of documentation be returned to me. Accordingly one packet was 'lost'. But one copy was sent back to me on March 18th, 2009. I have retained that copy, and I am making another copy, which I will be sending to you in the very near future.
While I have agreed in writing not to bring civil charges against the State of Alaska, ASMI, etc., I am humbly requesting that you begin a truly independent investigation into these matters in order to ascertain if criminal charges are warranted against any and all parties that failed to shield me under the Alaska Whistleblower's Act, as well as any other potential violations by additional parties of State of Alaska statues, codes, charters, etc.
This message has been copied to Dennis Zaki, a member of the press at Alaska Report.com in the hope that there is no further delay in addressing this matter. After numerous attempts to have these matters addressed quietly, I feel that the only means to have an investigation start is to bring it into the 'public eye'. I hope that you will be committed to seeing justice done in this matter, as well as to inspiring a more open and transparent atmosphere within the operations and processes of the State of Alaska.
Respectfully,
KC Dochtermann
© AlaskaReport.com All Rights Reserved.
---