August 15, 2009
Secretary Chu Announces Funding for Clean Energy Projects on Tribal Lands and Alaska Villages
From a US Department of Energy press release:
U.S. Energy Secretary Steven Chu today announced up to $13.6 million in multi-year funding for new clean energy projects on tribal lands. Thirty-six Native American tribes and Alaska villages have been selected to receive awards that will advance renewable energy technologies and energy efficiency and conservation projects on tribal lands and rural Alaska villages.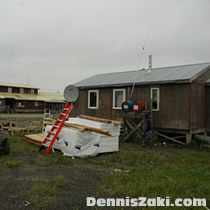 "The Department of Energy is committed to helping Native American tribes meet their energy needs through clean energy technologies," said Secretary Chu. "These projects will create jobs and economic opportunities on tribal lands, while protecting our planet and reducing our dependence on foreign oil."
In Alaska, many rural Native villages face the special challenge of paying high retail fuel prices to meet basic survival needs. Heating oil and diesel fuel is expensive, and the situation becomes even more burdensome for rural communities with the increased costs for transportation and storage. For those Alaska Native communities and many other tribes struggling in the current economy, renewable energy and greater efficiency can provide reliable power supplies while reducing heating and electricity costs.
DOE selected the projects through a competitive process and will provide financial assistance to the tribes for weatherization training, feasibility studies, and development and deployment of renewable energy and energy efficiency measures. The DOE funding is expected to be matched by up to $27 million in public and private investment, for a total value of up to $41 million.
Of the 36 Native American tribes and villages whose projects have been selected for negotiation, 8 projects will provide weatherization training and resources to tribal members, 17 projects will focus on assessing the feasibility of renewable energy development and energy efficiency deployment on tribal lands; and 11 projects will fund the development of renewable energy resources and the deployment of energy efficiency measures on tribal lands and villages.
Since 2002, the Department of Energy has provided $16.5 million for 93 tribal energy projects.
For more on the Office of Energy Efficiency and Renewable Energy's Tribal Energy Program, visit www.eere.energy.gov/tribalenergy.
© AlaskaReport.com All Rights Reserved.
---