September 8, 2009
Ethan Berkowitz Announces Candidacy for Governor
Former State Minority Leader Says He's Running to Put Alaska First
Today, former State Democratic Leader Ethan Berkowitz announced his candidacy for Governor, officially submitting his letter of intent to run with the Alaska Public Offices Commission.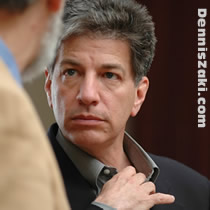 "A lot has changed in the fifty years since statehood and yet much remains the same," said Berkowitz. "We're still too dependent on the federal government, too reliant on Outside corporations and too beholden to special interests. After fifty years, it's time to stand on our own feet."
"I believe in Alaska. Our story is one that's rooted in survival. Our history is one of uniting to overcome even the greatest of odds. It is a concept woven into the very fabric of our communities. It is time for leadership that embodies these qualities-leadership that calls on Alaskans to put our differences aside in favor of a higher purpose: to put Alaska first."
Berkowitz and his wife, Mara Kimmel, live in Anchorage, where they are raising their two children, Hannah and Noah.
Ethan is involved in a variety of businesses across Alaska. Most recently, he has been working with the Kodiak Kenai Cable Company to install a submarine fiber optic cable that will bring high speed broadband to more than 140 rural communities. He has also been promoting renewable energy projects in the lower Yukon Kuskokwim.
Before beginning elected service, Ethan spent three seasons in Antarctica, working at stations, in remote camps, and aboard ships as everything from a field assistant to a guide to an enforcement officer for the U.S. Antarctic Program. Ethan has also worked as a law clerk for the Alaska State Court of Appeals, as an Assistant District Attorney in various Southcentral and rural communities, and established his own law practice. Along the way, he did some commercial fishing in Bristol Bay.
Berkowitz served in the State House of Representatives for ten years, from 1996 to 2006, where he was the Minority Leader for eight years.
From an Ethan Berkowitz press release
© AlaskaReport.com All Rights Reserved.
Berkowitz on Ethics
---