September 12, 2009
Nation's bottomfeeders gather in D.C. for Teabagger rallies
Teabaggers armed with cardboard signs displayed their racism, ignorance, and bigotry
"Teabaggers" from around the nation gathered in Washington D.C. Saturday to protest what they believe is a bigger government and health care reform.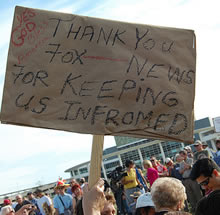 From the AP:
Tens of thousands of people marched to the U.S. Capitol on Saturday, carrying signs with slogans such as "Obamacare makes me sick" as they protested the president's health care plan and what they say is out-of-control spending.
The line of protesters spread across Pennsylvania Avenue for blocks, all the way to the capitol, according to the D.C. Homeland Security and Emergency Management Agency. People were chanting "enough, enough" and "We the People." Others yelled "You lie, you lie!" and "Pelosi has to go," referring to California congresswoman Nancy Pelosi.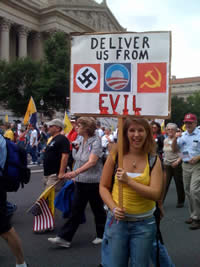 From CNN:
In Battle Creek, Michigan, a woman in her 60s says, "I really don't want to be a guinea pig for the experiment they have with the population control." In Canton, Ohio, a woman argues with an Obama supporter: "He's going after our kids to try to indoctrinate them into a national defense army."
The Tea Party Express tour has been free of violence, but occasional outbursts of vitriolic hatred toward the president combined with some menacing outward appearances often overshadow the more moderate tea partyers.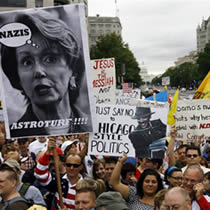 In Louisville, Kentucky, two young men in camouflage fatigues roamed the crowd trying to recruit new members for their militia called the Ohio Valley Freedom Fighters. They bear signs reading "AK-47s: today's pitchfork" and "Quit worrying. Start your militia training today."
In Jackson, Michigan, a young man didn't need a sign. He was carrying the real thing: A loaded AK-47 assault rifle and two loaded handguns.
"I don't want a revolution. I don't want a civil war," he said. "But it is a possibility. It's there as an option, as a last resort."
For the rest of the story go here
© AlaskaReport.com All Rights Reserved.
Alaska Teabagger Rally in Anchorage 8/10/09
---