April 19, 2008
Clinton needs big win in Pennsylvania or it's all over
Hillary Clinton needs to pull off a huge win in Tuesday's Pennsylvania primary or it's curtains for her campaign.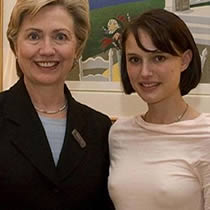 CLICK TO ENLARGE >>>
Unless the New York senator does exceptionally well against Illinois Sen. Barack Obama in Pennsylvania, there will be great pressure for her to pull out of the race, The Wall Street Journal reported Friday.
"The bigger the number, the better," says Democratic consultant Hank Sheinkopf, who adds that a poor showing will likely increase calls for Clinton to drop out.
A month ago polls showed Clinton with a 10-point lead over Obama but in recent days the margin has eroded, the Journal reported.
A Zogby poll of likely Pennsylvania voters conducted this week showed Clinton ahead with 45 percent compared to 44 percent for Obama.
Clinton aides said the Obama camp has outspent her campaign as much as three to one in Pennsylvania.
© AlaskaReport.com All Rights Reserved.
---