April 20, 2008
Mark Begich to run for Senate
Anchorage Democrat Mark Begich is going to run for the U.S. Senate seat currently held by Republican Ted Stevens.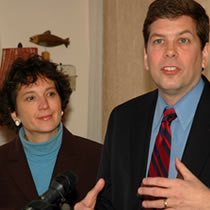 Stevens is under multiple criminal investigations for extortion, tax evasion, and bribery charges relating to Alaska's legislature and fisheries issues.
Begich will formally announce his candidacy on Monday.
Begich has been the mayor of Anchorage since 2003.
After forming an exploratory committee in February, Begich has raised $267,090 in campaign funds so far.
From a Begich press release:
Begich to Announce Candidacy for U.S. Senate

On Monday, April 21, Mark Begich will announce his candidacy for the U.S. Senate.

For nearly eight weeks, Begich has been involved in an exploratory effort allowing him to travel the state listening to the concerns of Alaskans. That effort has led him to his decision to officially enter the race.

Begich will declare his candidacy, sharing his thoughts and plans for Alaskans, in two cities, Anchorage and Fairbanks.

© AlaskaReport. All Rights Reserved.






---